XXL magazine discusses upcoming rappers for "Freshman Class"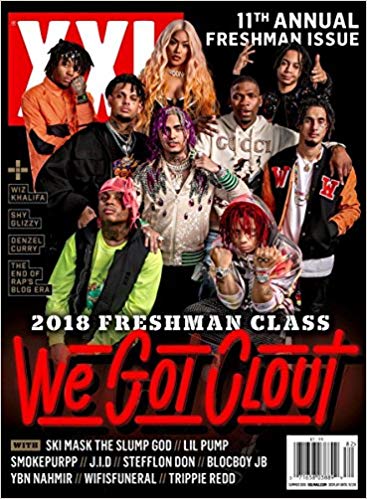 XXL magazine is a hip-hop publication that releases an annual "Freshman Class" list that features 10 artists to watch, who all appear on the cover of the magazine.
Previous "Freshman Class" lists have includes some of the most recognizable rappers of today, such as Kendrick Lamar, Playboi Carti, Lil Uzi Vert, 21 Savage, and Travis Scott.
The freshman list is taken from a pool of rappers nominated by the editors. The public can vote for the list's 10th spot on the XXL website, but the other nine spots are selected by the editors.
Voting for this year's 10th spot is now closed, but the results will not come out until sometime in mid-July. Some notable names on this year's list were Comethazine, DaBaby, Blueface, YBN Cordae, and Sheck Wes.
Sheck Wes is the only rapper who did not deserve to be on the list. The list is meant to give people insight into new and exciting rappers, and a one-hit wonder who has no real talent does not fit that description.
All of the other rappers mentioned — Comethazine, DaBaby, Blueface, and YBN Cordae — were deserving of a spot on the list, as they each bring something unique and exciting to their music.
Comethazine makes hype music that is always enjoyable, and he hasn't made a bad song yet.
DaBaby recently got Offset to feature on the track "Babysitter," and even though the song is under three minutes, it feels like much longer because of the impactful verses and catchy hook. He also has plenty more music, as he has eight mixtapes out since 2017.
Blueface has the most unique flow of anyone on the list, and although all of his songs sound nearly identical, they are all enjoyable.
YBN Cordae is one of the most lyrical rappers in the running, and he consistently comes out with tracks featuring exciting trap-based beats on top of his meaningful verses.
Other notable artists who will most likely make the list even though they are not incredibly exciting are Juice WRLD, Gunna, and YBN Almighty Jay.
The list features at least one female rapper a year, and this year's top female rapper is Rico Nasty. Bhad Bhabie, who gained popularity based on her notorious Dr. Phil interview, is more popular, but she is much less talented and does not deserve to be on the list.
The XXL Freshman Class list is always an exciting topic to speculate about, and this year will be no different.
About the Contributor
Mason Hurley, Multimedia Editor
Multimedia Editor Mason Hurley is a senior and three-year staff member. He always has a clean pair of Jordans, Nikes, Adidas, or Yeezys on, and may be...