Opinion: Cheating Astros should be stripped of title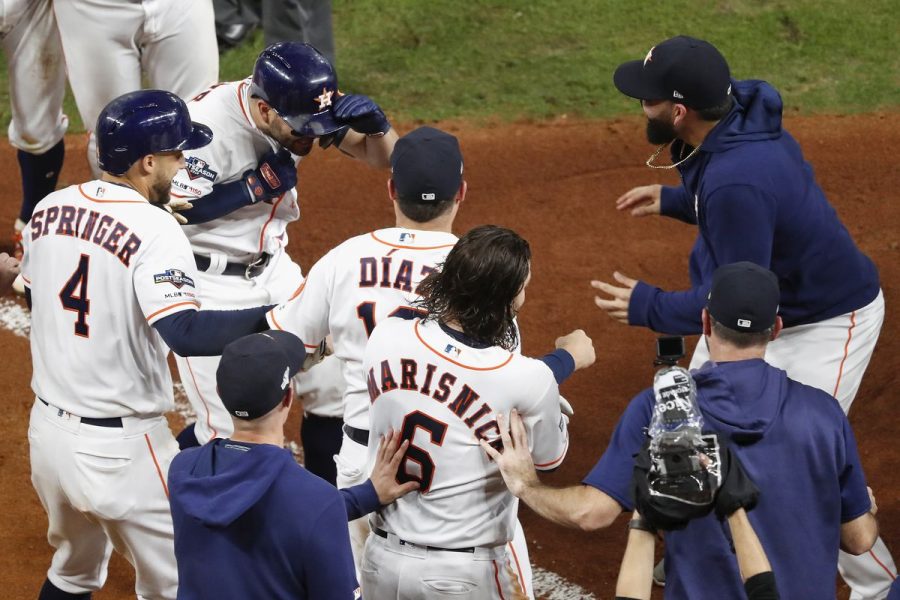 The world of Major League Baseball has been flipped on its head following the revelation that the Houston Astros, one of the league's powerhouses over the past few years, had been using a centerfield camera and clubhouse TV to steal the opposing teams' signs and relay them to the batter. 
The scandal started when former Astros pitcher Mike Fiers reported the use of technology to steal opponents' signs by using a camera in center field, as well as having players bang out a code on trash cans to tell the batter what pitch would be coming next. It has also come to light that the Astros used buzzers to alert players of what pitch was coming. 
Significant evidence of the accusations has since surfaced, and the Astros have been heavily penalized by the MLB for the technological sign stealing.
President of baseball operations Jeff Luhnow and Manager A.J Hinch were both suspended for the 2020 season and were fired from the organization. The team also lost four draft picks and was fined $5 million, which is a record punishment.
The MLB stated that sign stealing is not against the official rules, but that the technology which was used to do so hurts the integrity of baseball.
It was a very large punishment indeed, but it is still not enough. There is no room in the game of baseball for cheating, and the Astros should be stripped of their 2017 World Series title.
The MLB needs to use the Astros as an example that cheating will absolutely not be tolerated by hitting them where it hurts.
This ordeal has been an absolute shame for the honest game that baseball is, and the Houston Astros should receive the worst penalty possible: A stripped title.
One of the greatest rebuilding stories — a team that went from being a joke to a champion — has been ruined by a terrible scandal that has hurt the sport greatly.
About the Contributor
Colton Brain, Staff Writer
Colton is a senior and a third-year staff writer. He is a big sports fan and especially loves football and baseball. He loves to give his takes on the...