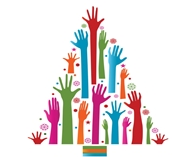 The 14 School Days of Christmas: Giving back should happen all year long
The Christmas season is often known to be a time of giving, a time when people can enjoy being with family and celebrate the holidays. Unfortunately, not everyone can have the perfect Christmas, as many people struggle to provide for their families — which is why the holidays are the perfect time to volunteer and give back to the community.
The holidays always bring a sense of cheer and a desire to help others, which is why people often try to perform good deeds throughout the season. Volunteering to help others is one of the best ways to show the true holiday spirit.
Giving of one's time to help others can always be a humbling experience, but doing so during the holidays can help people to understand and appreciate all the things they have in their own life. 
Volunteering can even be fun when performed with friends and family. Many families have traditions of doing service projects during the holidays to teach valuable lessons about gratitude and giving to others.
While serving others during the holidays is great, the need is always there. People cannot just forget about volunteering after they are done celebrating the holiday seasons. The holidays should not be the only reason someone decides to volunteer, as giving back to the community is never seasonal.
Often times, places that take volunteers quickly fill up during this time of the year, as everyone tries to do their good deeds specifically for the holidays. The overwhelming push to help is always great, but could be even better if more people would continue such work all year long.  
It is not that hard to dedicate a few hours a month to helping others, and the impact on someone's life could be immeasurable.
As the decade soon comes to an end, more people should make it their goal to try to help others for the upcoming year.  Let's lengthen the holidays by continuing the holiday spirit of giving all year. You may find that giving your time to others can be the greatest gift of all.