`Komi Can't Communicate' offers a kind look at anxiety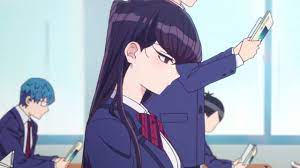 Komi Can't Communicate shows anime fans how a lighthearted show can have a much deeper meaning. 
The show follows Komi Shouko, a girl who has severe issues communicating with people, and the one friend she makes at school, Tadano Hitohito. Through the episodes, they set out on Komi's quest to make 100 friends with Tadano helping her. 
The anime adaptation is ongoing with a very popular manga that goes along with it. Many manga readers had high expectations for the show, and the show does not disappoint at all. 
The episodes all have a lighthearted atmosphere, but there are specific moments that draw on the viewer's heartstrings. The art style goes perfectly with the plot as it's more cartoonish than typical anime, but the animation is still done wonderfully. 
While shows have gotten better at representing all types of people, there is still a lack of representation for mental health issues. Komi clearly struggles with anxiety and it affects her ability to communicate with the people around her. Many viewers of the anime have been able to see themselves represented through Komi.
The struggle to make friends is very familiar to a teenage audience, as is the high school setting of the show. 
Tadano is also the perfect protagonist alongside Komi. He allows Komi to shine on her own as a character while still helping to drive the plot forward. All of the characters have depth to them and the message the show displays is very meaningful. 
The show is available to stream on Netflix and new episodes are released weekly. 
Anyone looking for a heartwarming show with interesting characters and a unique plot would definitely enjoy Komi Can't Communicate.