Sports anime wins over viewers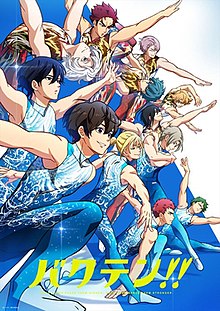 The show Bakuten!! engages its viewers with the usual sports anime tropes, but with a slightly different charm.
Bakuten!! is a show that follows Shoutaro Futaba, a character who has always loved sports but ended up being nothing but a benchwarmer on his school baseball team. After watching the Shoushukan High School's rhythmic gymnastics club compete, he decides to enroll at the same school in hopes of joining the club.
Long-time anime fans already know the formula for sports anime, but this show is based around a sport that not many people pay attention to. Because of that, every episode is as informative as it is enjoyable.
Shoutaro is a relatable character to those who are passionate about something but never got the chance to actually do it. Although he does not have much experience with rhythmic gymnastics, he works just as hard as the rest of the more experienced club members.
The best part about sports anime is usually the bond between the team members and the existence of friendly rivalry amongst the team.
The show's cast is full of refreshing characters, all having their own unique charm. Shoutaro has the "shounen charm" that all protagonists in sports anime do, but none of his teammates fall behind either.
The show is available to watch on Crunchyroll. Fans are very excited to see what's coming next and whether or not the club members will be able to achieve their athletic dreams. This show is highly recommended to anyone who enjoys sports anime or a cast of well-written characters.