Officer Artman retires after 25 years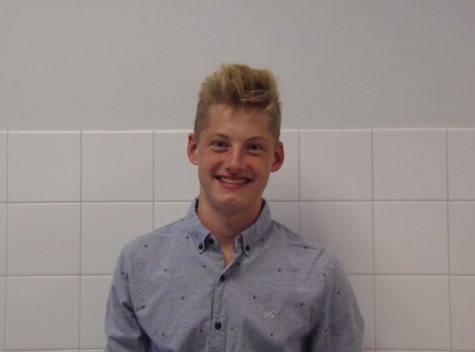 More stories from Zachary Wyse
Longtime Whitehall police officer, school resource officer, and DARE officer Dave Artman is coming up on retirement.
Artman's last day at the high school is today.
Artman has been a police officer for almost 25 years and has been associated with the DARE program for 19 years. Throughout this time, he has been going to all five schools in the district to teach students about the consequences of drug and alcohol use, as well as other life lessons.
Artman is going to miss the students and the relationships he has built with them over the years.
"The kids made every day so enjoyable for me," Artman said. "The best part of my career is the great kids in this district."
"
The best part of my career is the great kids in this district."
— Officer Dave Artman
Artman is still trying to decide his post-retirement plans, but he is interested in traveling.
"I am keeping my options open, and I want to travel and see my oldest son in Italy," Artman said.
The officer who will be replacing Artman is school resource officer Robbie Smith. He will be the new head of the DARE program as well. Artman wishes the best for him.
"He has many great ideas," Artman said. "I hope he can keep the program going and make it better."
Physical education teacher Tim Laughlin has known Artman for 19 years, and has built a great relationship with him.
"I have known Officer Artman since I started teaching here," Laughlin said. "He has always come into class and shared his knowledge with us."
Artman has been a great asset to the district, Laughlin said.
"He is more than a police officer and DARE officer. He is also a great member of the community," Laughlin said. "He is also a great father."
Junior Rylie Hogle is appreciative of what Artman has taught students.
"Officer Artman has come into my class every now and then since I was in third grade," Hogle said. "I have always loved his sessions and all the life lessons he taught us."
Artman has made a real impact on her and other students, Hogle said.
"I remember my class would always pay attention to his lessons," Hogle said. "He was a super nice and genuine guy, and I am going to miss him."
After Artman's last day, he is going to be on patrol for about six months until his retirement from the police force on July 31.
About the Contributors
Zachary Wyse, Staff Writer
Zack Wyse is a first-year staff writer who really likes cross country and track. He also likes wearing vans on the wall.
Alli Schroeder, Multimedia Editor
Senior Alli Schroeder is a multimedia editor in her third year on staff. When she is not writing, she can be found making her own clothes or earrings,...