Babik, Spanish class students send support to asylum seekers at the border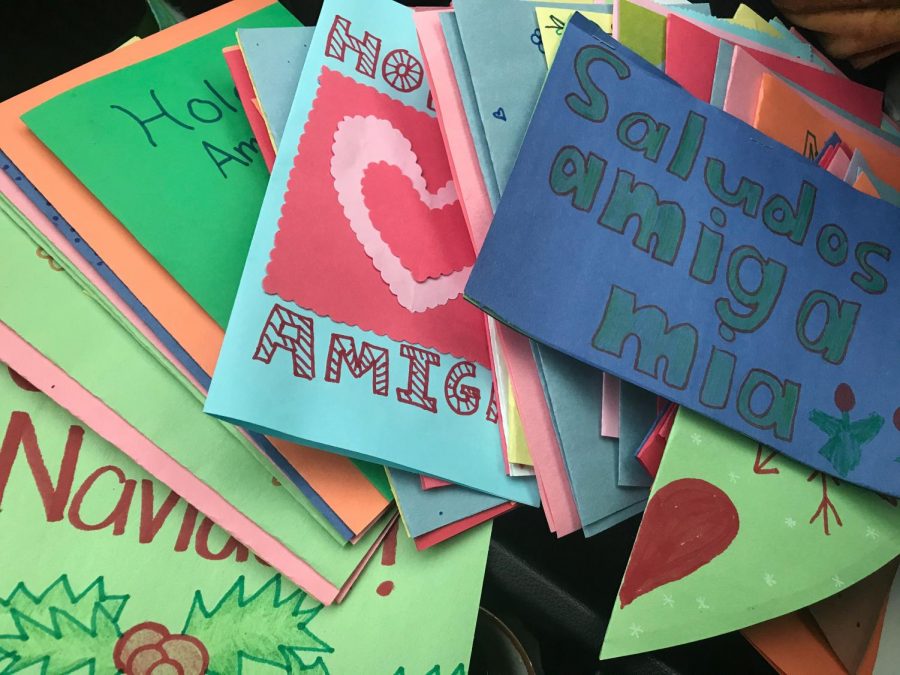 Spanish teacher Rebecca Michalski and some of her students recently teamed with counselor Caroline Babik to give hope to women and children along the border between the United States and Mexico.
After seeing a postcard for the Pittsburgh-based organization Worth Manifesto, Babik felt a calling to donate. Worth Manifesto initially focused on giving hope to homeless women, but now has expanded to aid women and children seeking asylum in the United States.
The organization collects donations of toiletries, toys, beauty products, school supplies, yoga mats, healthy snacks, and other essentials.
Babik could supply care packages, but the organization also suggests including an encouraging note written in Spanish with each package. So Babik asked Michalski if Spanish class students  would help with the cards. 
Michalski's students ended up making 85 inspirational cards for women and children. 
After being introduced to the organization, Michalski attended a packing party. Since Worth Manifesto is relatively new, this past weekend was the organization's second time shipping packages to the border.
Michalski said it was important to give hope to asylum seekers at the border.
"As a Spanish teacher and someone who has traveled and lived abroad, I've seen first-hand other ways of life and other people who are less fortunate than us," Michalski said. "It's important to give encouragement in times of hardship, and spread messages like you are loved, don't give up, and keep fighting." 
Babik agreed.
"I love seeing the students help out," Babik said. "I want to help people remember the importance of not wasting and considering the abundance of what we have and what we can give. Every little bit of compassion counts."
About the Contributor
Brooke Scanlon, Multimedia Editor
Multimedia Editor Brooke Scanlon is a junior and is in her third year on staff. She normally can be found at taekwondo, singing, or at Chick-fil-A. If...