Mock ESPN table puts spotlight on student section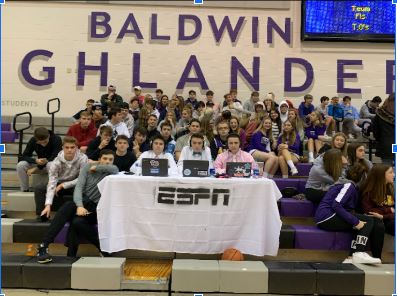 College students love seeing a game at their school being covered by a broadcast team from ESPN.
Baldwin got the next best thing at the boys basketball game on Friday, as three students made and ran a mock ESPN table in the stands.
Seniors Josh Dadig, Matthew Fediaczko, and Kieran Schmidt sat in front of Baldwin's student section, dressed up as ESPN reporters.
"Matt saw it on the internet and after that we brought the idea to life," Dadig said.
Dadig said preparing for the game took about an hour, and the crew was creative with props.
"It took us about an hour to set up the tablecloth," Dadig said. "We also used our Playstation 4 microphones as headsets."
The boys also did a post-game interview with Baldwin boys basketball player Andrew Degenhardt.
The crew plans on doing the ESPN mock again at some future home games for the boys team.
About the Writer
Zachary Wyse, Staff Writer
Zack Wyse is a first-year staff writer who really likes cross country and track. He also likes wearing vans on the wall.