Opinion: Chinese religious crackdown must stop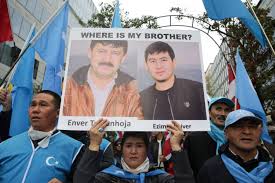 TikTok users might not think that the popular app is in any way linked to a wave of religious persecution in China, but the Chinese government's campaign against Muslims is far-reaching.
In Xinjiang, China, Muslims from the Uighur ethic group are going missing, eventually being sent to up to 85 camps that the Chinese government claims are "vocational training schools." The government says that the "schools" are completely voluntary and that people can leave any time they like.
That could not be further from the truth.
Documents that have been leaked to the Western media state that people are receiving "treatment" for exposure to Islam and that their families are being informed that "their thinking has been infected by unhealthy thoughts." It is clear that people are being held against their will, and are being forced to give up their Islamic beliefs.
NBC News reported that about 1 million of China's 10 million Uighur Muslims are imprisoned in these internment camps
Families of imprisoned Muslims are also told that their behavior can affect the duration of their loved one's stay. One leaked document states "family members.. must abide by the state's laws and rules, and not believe or spread rumors. Only then can you add points for your family member … and they can leave if they meet the course completion standards."
Another Chinese document states that "freedom is only possible when this 'virus' is eradicated and they are in good health."
To put it simply, the government in China is trying to rid the country of Muslims and eradicate the Muslim faith.
Many Uighurs have fled to Istanbul after being held in camps themselves, or losing family members to imprisonment. Every day in camps, and even elsewhere in Xinjiang, Uighurs are brutally interrogated and convinced to give up their Muslim faith.
Some people in the Western hemisphere are unaware of the situation in Xinjiang. The Chinese government has made sure of this by controlling social media not just in China, but in the rest of the world as well.
This shutdown even has spread to the app TikTok, which is based in Beijing.
One American TikTok user, Feroza Aziz, was blocked after a TikTok she created condemned the conditions in China. Aziz started the video as a "makeup tutorial" but then went on to say, "Use your phone that you're using right now to search up what's happening in China. How they're getting concentration camps, throwing innocent Muslims in there."
Five human rights groups — Human Rights Watch, Amnesty International, the International Commission of Jurists, the International Federation for Human Rights and the World Uyghur Conference — have called for the United Nations to condemn the actions of the Chinese government.
While not much can be done by the rest of the world to stop Muslim imprisonment right now, it is still important to understand the consequences and to speak out. People who can speak out must use their voice to help those who cannot help themselves. Through action, small groups of people can do big things.