Gaetano demonstrates civic virtue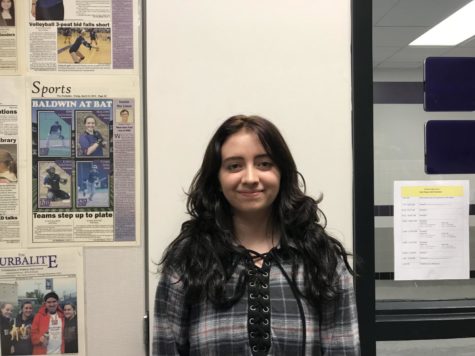 More stories from Prudence Nowicki
Senior Julia Gaetano has always felt a need to stand up for what she believes in. For her, making a difference comes naturally.
Last spring Gaetano participated in The Pittsburgh March For Our Lives, which was an organized march protesting gun violence in schools. Gaetano gave a speech advocating against gun violence at the march.
"I feel a duty to do what is right and to fight for change for the better," Gaetano said.
History teacher Kate Deemer thought Gaetano's speech at the rally was focused and purposeful.
"Julia discussed a practical solution," Deemer said. "She doesn't just push her own agenda. She also wants to better our country."
"
"She doesn't just push her own agenda. She also wants to better our country.""
— AP History Teacher Kate Deemer
Gaetano also ran a more recent fundraiser alongside The March for Our Lives Pittsburgh organization in the wake of the mass shooting at the Tree of Life synagogue in Squirrel Hill.
Gaetano designed shirts that people could buy online. It raised $3,178, which went to the Jewish Federation of Greater Pittsburgh for the Our Victims of Terror Fund.
Gaetano also created a banner for Baldwin students to sign in support of the Tree of Life, then took it to the synagogue and added it to the makeshift memorial there.
"I wanted to show support because it was local and close to home," Gaetano said.
Senior DJ Pickell thinks Gaetano is unique among high school students.
"She is a lot more willing to stand up. When nobody else cares enough to do anything about it, she does," Pickell said.
Gaetano also set up a petition in the fall to try to remove U.S. Sen. Orrin Hatch from Baldwin's Distinguished Highlander Alumni Hall of Fame. Gaetano said she started the petition after seeing a viral video in which Hatch responded to a group of women, later identified as including some sexual assault victims, by waving them off and saying he would talk to them when they "grow up."
"After his comments against sexual assault victims, I thought he was not distinguished in his behavior," she said.
Hatch was not removed from the hall of fame, but Gaetano said she was pleased with the exposure that her petition got.
Gaetano said she sometimes gets attention on Twitter that can be negative.
"I wrote a letter to Sen. Pat Toomey for gun control and posted it on Twitter," Gaetano said.
It attracted some negative comments, including some vulgar comments from adults, Gaetano said.
"When I get comments I try to engage with them respectfully. I always want to hear somebody's side of the story. If they seem like they are meant to provoke, I ignore them."
Gaetano is also a leader of the Global Minds group at the high school, which encourages intercultural relationships and understanding.
Gaetano isn't sure what she wants to do in the future, but she hopes to pursue something related to helping people, in an area such as social justice or mental health.
Deemer said Gaetano's passion and drive is a uncommon quality among students.
"Julia's commitment to leading and becoming a virtuous citizen and leading others to do so is completely unusual and unique amongst students through my entire career," Deemer said.
About the Writer
Prudence Nowicki, Multimedia Editor
Prudence is a senior and a third-year multimedia editor. She enjoys a majority of her time listening to K-pop, watching anime, K-dramas and enjoying all...