Rompers becoming trend for both genders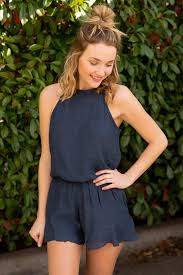 The up and coming trend of rompers is taking off with women and, surprisingly, men as well.
The perfect one-piece outfit for a summer day comes in all different styles and colors. Some incorporate the popular off the shoulder trend and others might support high-neck tops or even V-necks.
Rompers can also be shorts or long pants. They include a great deal of sleeve styles, too. "Rompers" that are long pants are called jumpsuits, but serve the same purpose as the typical romper with shorts.
They can have spaghetti straps, long, flowy sleeves, one sleeve, off the shoulder sleeves, and many more looks.
Most rompers have a flowy look, making them flattering on every body type.
Rompers can come in all different color schemes with many designs. The most popular colors are army green, shades of blue, and pastels. Rompers also may have intricate little designs including cutouts, mesh, open backs, and lace.
Some are made for more casual events like a day at an amusement park or family picnic, but others are made for more formal occasions like banquets.
Rompers are usually paired with some stylish sandals and maybe some type of necklace or choker.
The romper trend has become popular because of the convenience of not worrying about two different articles of clothing.
Because rompers were such a hit for females, fashion designers decided to make them for men as well.
This is being called the biggest joke in fashion history.
Male rompers have boxy shapes and do not flatter men in any way. They also come in a lot of different colors and can be paired with some sneakers.
As with women, they are convenient but more for the casual setting and not an alternate for a suit … at least not yet.
Although they have yet to be seen at Baldwin High School, they could be just for big city fashion right now.
About the Writer
Natalie Zgurich, Sports Editor


Sports Editor Natalie Zgurich is a senior and in her third year on the Purbalite. She is most likely on the tennis court or walking her dog. She also...