South Carolina women's basketball team making history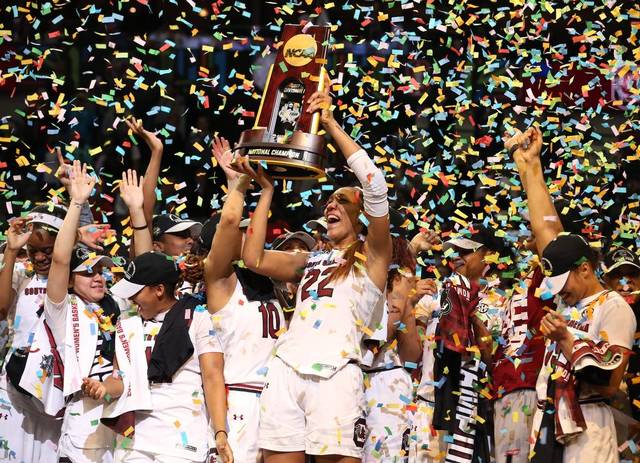 This weekend, the South Carolina women's basketball team won its first national championship in school history.  Meanwhile, the men's team's incredible run to the Final Four ended with a loss to Gonzaga.
For Gamecock Nation, including myself, a future Gamecock, it was a celebration 44 years in the making.
South Carolina has long been a school of heartbreak and losing.  The school's only championships, prior to the women's basketball championship, include women's track and field in 2002 and men's baseball in 2010 and 2011.
Students on campus waded in the fountain outside the Thomas Cooper Library after the men's victory over Florida and University President Harris Pastides said, "Gamecock students in the fountain.  I know I should be upset…but I'm jealous! Final Four!"
Five years ago, the two programs combined to win nine conference games.  Credit goes to coaches Frank Martin and Dawn Staley, who took it upon themselves to rebuild programs that were desperately in need of a change of attitude.
Martin's ability to keep top basketball talent from the state of South Carolina, such as Sindarius Thornwell and P.J. Dozier, factors into the success of the program.  Martin's decision to recruit overseas has also brought impact players such as Chris Silva from Gabon and Maik Kotsar from Estonia.
Martin's coaching style on defense gives his team a chance to stay in every game.  The Gamecocks were one of the better teams in all of college basketball in defensive efficiency.
Staley was one of the top women basketball players in her career, playing in three Olympics and the WNBA.  She improved South Carolina every year she has been there and finally broke through by winning a national championship.
For a school known for Steve Spurrier, football, and baseball, it is refreshing to see a basketball program that proves it can be just as good.