New sneaker trend here to stay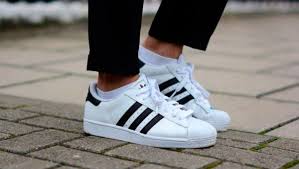 Finally, a practical fashion trend has taken the stage for both male and female teens.
Sneakers that look like they belong in the '70s have made a comeback with today's teenagers.
The biggest brand for these shoes is Adidas, which has collaborated with rapper Kanye West's Yeezy line. Vans and Converse are also among the more popular brands.
The most popular shoes are black and white leather shoes made by Adidas with a round front called Superstar shoes. Adidas has different color schemes other than the standard black and white, too.
These shoes are very functional because they can be worn on any occasion. Girls can dress them up to wear them with sweaters and dresses, but they can also dress them down to wear with leggings and a sweatshirt.
The same goes for guys because they can wear them on any occasion.
These sneakers have a variety of styles, some definitely better than others. They come in high tops and low with many different colors and designs.
The Converse range in price from $35 all the way up to $250. The Vans start at $50 for a pair of low tops and max out at $110 for intricate high tops. The popular Adidas black and white low tops are $80.
When it comes to these sneakers, age really does not matter. They are most popular among teens, but adults and children can find a pair to rock too.
The so-called "sneakerheads" say this trend is here to stay because of the variety and the practicality of the shoes.
About the Writer
Natalie Zgurich, Sports Editor


Sports Editor Natalie Zgurich is a senior and in her third year on the Purbalite. She is most likely on the tennis court or walking her dog. She also...