MLB Progressing Towards Faster Games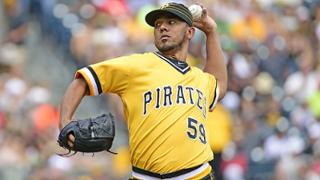 Last week, Major League Baseball decided to take another step in the right direction for speeding up the pace of play by implementing a dugout signal for the purpose of intentional walks.
Originally, pitchers would toss four straight pitches to a standing catcher out of the batter's reach to "pitch around" a good hitter or set up a double play ball. It's a tactic that has always been a part of baseball, but will no longer take this form.
Pitchers can still opt to pitch around a guy like Bryce Harper or Mike Trout if they believe that they can get the next batter out, but they will only need a dugout signal from the manager to the umpire to do so.
Baseball can be a slow, boring sport as it is and it is not easy to make improvements to make the game faster.
The league already has implemented limitations on the time between innings, during pitching changes, and mound visits.
This is a good rule for the simple fact that there is enough time between pitches already because of batters who feel the need to dig in and spit on their gloves and touch all the corners of the plate with their bat. It's getting out of hand.
Pitchers can be slow as well.
Pittsburgh Pirates relief pitcher Antonio Bastardo was a pain to watch. He would take 30 or more seconds to even get back on the pitching rubber.
The league also is looking into other possible changes for future years.
At some minor league games, the league will experiment with putting a runner on second base to start every half inning of extra innings to keep games from potentially going 15 or more innings as some have over the past few seasons.
This, however, would be a mistake. It's so much fun to watch these extra-inning games because they have been thrillers.
When the Cardinals played the Pirates on national television on July 11, 2015, it may have been one of the most entertaining games in PNC Park history. It saw a controversial strikeout in the first inning, an A.J. Burnett home run, and an Andrew McCutchen walk off in the bottom of the 14th inning. It got the Pirates to within two games of the division lead. It was a thriller only made better by the extra innings that came along with it
The pace of play around the MLB is taking steps in the right direction, but some things don't need to be tampered with.