Review: Madden 17 follows `same' trend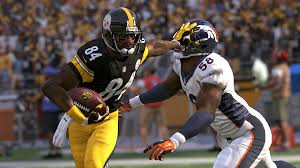 The new Madden NFL 17 a fine game for any fan of football, but fans of the franchise know the major problem with this edition.
This gaming franchise seems to be struggling to put out new content annually, and this game has no major improvements from last year's game. Many other annual sports games are struggling with the same problem.
Madden 17 includes amazing game modes, like Ultimate Team, in which players can build their own teams; Draft Champions, where fans can draft their own teams; and Franchise mode, where gamers can start with their favorite team and lead it to a championship. These game modes are great, but they are the exact same major game modes from Madden NFL 16, last year's game.
There are very few differences between the two games. Even the formatting for the games' navigation screens are very similar. Many fans of the Madden franchise are very disappointed that they paid $60 for the same game, just with updated rosters.
The field goal kicking meter is among a very small set of changes in gameplay. But the major parts of the games are the exact same.
In addition to Madden 17, games like NBA 2K16 and MLB 15 the Show have also failed to make major improvements to their games, and a lot of fans are unhappy.
When MLB 15 the Show came out, many people complained about San Diego Studios, the game's developer, not caring enough about their biggest game. The company came back the next year with MLB the Show 16, with multiple new game modes and major improvements to the game, which stopped most of the criticism and made the game's franchise even more successful.
Many people had also criticized 2K Sports for NBA 2K16 for the same reason, but the criticism ended once NBA 2K17 recently came out.
All of these games were great games, but people were let down when they realized the companies almost completely re-used the previous year's game.
People might stop pre-ordering sports games like these, just to make sure that the games aren't the exact same as last year. This will make these companies lose a lot of money.
In the future, this trend hopefully will end, due to all of the complaints and the risk of EA, 2K and San Diego Studios losing a lot of revenue.