Freshman leads tennis to playoffs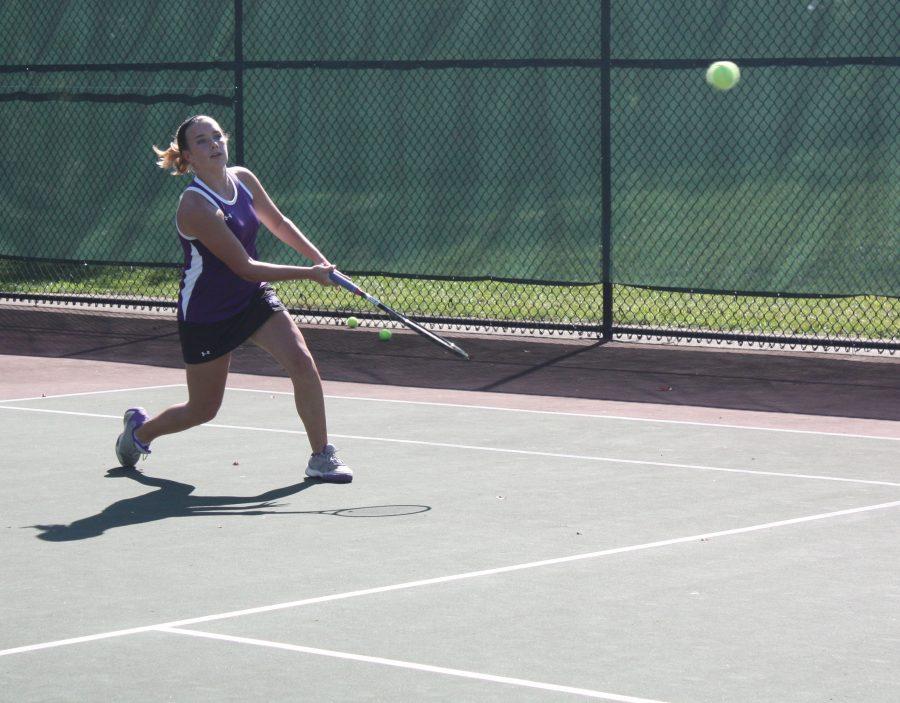 For freshmen Bethany Yauch, playing tennis has been a family tradition.
Yauch started playing tennis when she was 4 years old and had her grandfather teach her.
"My grandfather has been a tennis coach for 40 years and taught my mom, my uncle, my sister and now me," Yauch said.
It paid off: Yauch secured the number one varsity spot in singles early on in the season. Even more impressively, she finished second overall in section singles and therefore made it to WPIAL singles finals. She was the first to do so in two decades from Baldwin.
During WPIAL finals Yauch beat North Alleghany's Tina Li, who has won states the past couple years.
That win and others helped Yauch to qualify for states.
She was pleased with her overall performance at WPIAL finals and is excited to represent Baldwin in states.
"I never expected to make it to states," Yauch said.
Sophomore Natalie Zgurich is proud of Yauch to make it all the way to states.
"She is such a good person and I am really happy for her making this far," Zgurich said.
Zgurich has been playing tennis with Yauch since she was 4 years old, and was happy when Yauch got the top varsity spot.
"I've played with her before and she has always been a difficult opponent, so I wasn't surprised when she got the number one spot," Zgurich said.
Yauch started playing competitively when she was 12 years old.
"I played in middle state tournaments and national tournaments," Yauch said.All those years of hard work have paid off as Yauch only lost only one match the entire season. She helped the team to its best season in recent memory, even though the Highlanders lost in the first round of the playoffs against Hempfield.
Zgurich also saw the team's improvement and said Yauch has a big impact on the court. Yauch is also a positive and hard working person, which helps everybody, Zgurich said.
The only match Yauch lost came during a match against Fox Chapel, but she was very pleased with her performance.
"It was the best I played the whole season because I was playing against a better player and I know I gave her competition," Yauch said.
Yauch also knows that she has a lot to prove since she is a freshmen starter, but she likes the pressure.
"I know a lot of people don't like pressure, but I enjoy having it because it makes me better," Yauch said.
In a game against Oakland Catholic, a team that Baldwin had not beaten in eight years, Yauch had a lot of pressure on her. But that made her want to win even more, and Baldwin beat Oakland Catholic, 4-1.
"That was an awesome win because it was great to see all of my coaches and teammates happy. It was a huge accomplishment for the team," Yauch said.
Although the team got eliminated early in the playoffs, Yauch has high hopes for next year's season.
"I know we are a young team and we weren't expected to win, but we made the playoffs and I believe we can be a great team in the future," Yauch said.
About the Writer
Nick Pouch, Multimedia Editor
Multimedia Editor Nick Pouch is a senior and in his third year on the Purbalite. He can be found on the boys volleyball team or playing the saxophone in...