Students, staff urged to wear blue for Autism Awareness Month, photo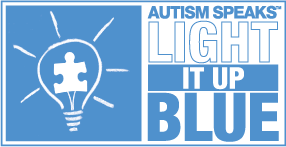 BY AMANDA BRUNI AND ALANA ECKELS
Staff Writers
Students and staff are encouraged to wear blue on Wednesday to support Autism Awareness Month, and all those who do are invited to the main gym at 7:40 a.m. for a photo.
Also, throughout the week, Special Olympics Club members and Partners PE students are inviting students and staff to color in puzzle pieces that are being displayed on an autism awareness bulletin board near the gym.
"The beauty of this is that students show their awareness and understanding of autism," club co-sponsor Timothy Laughlin said.
Already this week, about one-fourth of Baldwin's students have colored in one of the symbolic puzzle pieces in support of autism awareness, he said. The goal is to have even more participating by the end of the week.
Special Olympics club members and Partners PE students have information about autism to share with anyone who comes to color in a puzzle piece.
"It's our job to educate students about this," Laughlin said.