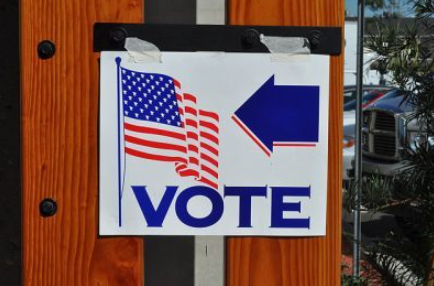 While most teenagers were enjoying their day off for Tuesday's election day, some Baldwin students volunteered as poll workers.
Allegheny County's student poll worker program invites students who are 17 years of age or older to become poll workers at county election sites. For the first time, Baldwin High School had the opportunity to participate. 
"I think it's great. I think it's super important for students, at that age especially, to see how that process works," history teacher Katie Temme said. 
After completing a multi-hour training and getting their applications signed by Principal Shaun Tomaszewski, the eight participating seniors were able to take on real jobs assigned to poll workers, including signing in voters and handing out ballots. This firsthand experience makes voting less intimidating, and it offers students skills including dealing with people and problem-solving, Temme said. 
Prior to allowing students to work and volunteer at the polls firsthand, Temme's AP Gov class held a voter registration drive, which resulted in 22 students registering. 
"I'm very pleased that we have gotten so much more interest in actual civic duties than in the past," Temme said. 
Temme plans on holding a second voter drive in the spring, and poll working opportunities will continue as long as scheduling permits. 
For senior Kelsi Boyd, who worked as the minority clerk at the Baldwin Borough building serving District 3, her family influenced her decision to be a poll worker. 
"For many years, my grandma has always worked for the elections, and I knew when I turned 18 I'd want to also," she said. 
Another student poll worker, senior Mikalah Beardsley, said it is important to both vote and learn about the voting process. 
"You get a say in the government and be a part of making changes," Beardsley said. "It helps people in the real world. People can be more prepared and understand what is going on."
Boyd agreed.
"I feel it's important to vote because it gives you a chance to make your voice heard," Boyd said. 
Beardsley said it is the first time that she has volunteered at the polls. She and most other volunteers worked for seven hours, starting at six A.M.
"I was at the high school for District 5, my district," she said. "I helped set up the judge of electives, organize the paper ballots, and assign people numbers." She also got to give out the 'I Voted' stickers once people completed the voting process.
Beardsley said it was worthwhile for her to work the polls. 
"It was definitely fun seeing people that I knew from the community," she said.