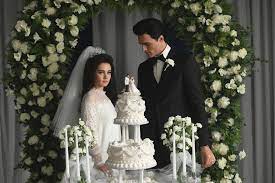 The film studio A24 brings a new, realistic view of Elvis Presley in Priscilla.
Priscilla features Jacob Elordi and Cailee Spaney. Its highly anticipated view of Priscilla Presley and her marriage with Elvis does not disapoint.
The unique style of A24 production is clearly seen in the film with its slow but fascinating pace as well as its color grading. 
Priscilla shows a much more realistic and raw perspective of Elvis Presley. The 2022 film Elvis, featuring Austin Butler, on the other hand, was an inaccurate and romanticized depiction of Presley. 
While Elvis' music may focus on an older audience, A24 has created Priscilla for a younger demographic target. The film brings a feminist tone to the story of Elvis. 
The film shows Elvis' manipulative and abusive tendencies towards Priscilla while also portraying the grooming that took place in their relationship. 
While the film does a great job at showing the realistic side of Elvis Presley, it also ensures that Elvis' legacy is not shattered and the film does not come across as a direct hit to Presley.
The film mostly focuses on the perspective of Priscilla, which has not been depicted in previous Elvis movies. 
Priscilla also provides an amazing soundtrack that perfectly captures the emotions shown in the film. It does not include any Elvis songs, and instead features Frankie Avalon and Brenda Lee, but also the Ramones and Alice Coltrane.
Although Priscilla does have an underwhelming ending, the film still sets a new tone for the topic of Presley as well as a new side to Priscilla's underrepresented perspective.