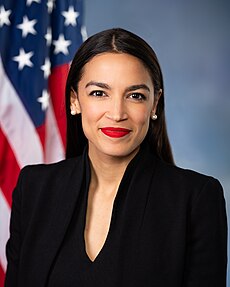 "

Cortez's first piece of legislation was the Green New Deal resolution, which aimed to help the environment.

— Gwen Gordon

Some members of "The Squad," a group of extremely left-wing young Democrats who were best known for their fierce arguments, have been more reserved in the last year.

The eight Democrats have stood out from the other members of the House because of their devotion and fearlessness in their arguments. "The Squad" comprises Alexandria Ocasio-Cortez, Ilhan Omar, Ayanna Pressley, Rashida Tlaib, Jamaal Bowman, Cori Bush, Greg Casar, and Summer Lee. 

The Squad members are all under 50 years old and had regularly been in the news for their outspoken way of arguing. Too many politicians hold back on their true views to avoid hurting feelings, but the Squad brought fresh and relevant solutions to the table. 

Cortez's first piece of legislation was the Green New Deal resolution, which aimed to help the environment. She also sponsored the Equality Act, which was proposed to prohibit discrimination against gender and race. AOC more recently sponsored the Women's Health Protection Act of 2023, which aimed to protect a woman's reproductive rights. Although the bills failed to make it into the Senate, they showed her colleagues that she is passionate about her beliefs. 

Lately, however, Cortez has been more quiet. Also, she recently endorsed President Biden, a moderate Democrat, in his bid for re-election.

Tlaib and Bush, meanwhile, are members of the Squad who have spoken up lately, though they faced criticism for some of their comments. 

In the early days of the Israel and Hamas conflict, when a missile hit a hospital in Gaza, Hamas immediately blamed Israel. Tlaib tweeted, "Israel just bombed the Baptist Hospital killing 500 Palestinians (doctors, children, patients) just like that." Bush posted a similar comment.

But U.S. intelligence quickly determined that Israel had not attacked the hospital, and that Hamas was responsible for the blast because one of its rockets misfired and hit the hospital.

Fellow progressive Democrat Sen. John Fetterman then criticized Tlaib and Bush by tweeting, "Who would take the word of a group that just massacred innocent Israeli civilians over our key ally?"

Tlaib has made it clear she is not on Israel's side and she wants "peace and justice" within the region. The conflict is a difficult situation involving thousands of years' worth of disagreements. While some politicians are deciding not to get involved, for Tlaib, that is not the case. She has made it clear where she stands and will continue to fight.