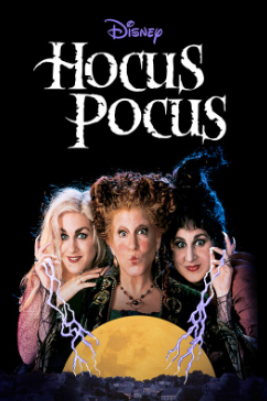 Hocus Pocus is a classic that manages to mix horror and children's comedy in one film.
The 1993 movie tells a thrilling story of some kids on the spookiest night of the year battling three witches to stop them from becoming immortal. 
The story takes place in the '90s in Salem Massachusetts. The protagonist, Max Dennison, takes his little sister, Dani, trick-or-treating. While they are out they meet up with a girl he likes named Allison.
The three main characters decide to explore an abandoned house that belonged to three witches named the Sanderson sisters, who had been killed 300 years before. The kids decide to light a black candle to summon the witches. 
After being summoned, the witches try to use a potion to consume the lives of children and make themselves immortal. This leads to the battle between the witches and the children. 
The witches themselves are the icons of the movie. Each actress has a unique way of displaying their personality. 
Winifred Sanderson, the oldest of the three, is played by Bette Midler. She has four Grammy awards, four Golden Globes, one Tony Award, and three Emmy awards. Aside from Hocus Pocus she also starred in Ruthless People. 
The middle sister, Mary Sanderson, is played by actress and lifelong activist Kathy Najimy. The youngest sister, Sarah Sanderson, is played by Sarah Jessica Parker, who also is famous for starring in Sex and the City.
Hocus Pocus is such a good movie because of its complexity. It is able to add a comedic factor with all the action and make it appropriate for all audiences. It also adds the aspect of teenage love and drama. 
This is an ideal choice for a family movie night. 
Its remake, Hocus Pocus 2, is also a movie worth checking out. It follows a similar plot to the first one with the same three witches we all love.