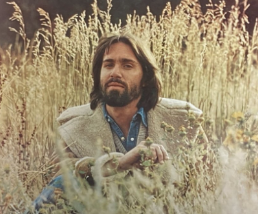 Tired of your Spotify playlists? The Purbalite is here to help with our Essential Listening series.
Folk rock artist Dan Fogelberg wasn't just a singer; he could also play many instruments as well as produce albums. His 1979 album Phoenix showcases all of Fogelberg's talents.
Fogelberg contributed the guitars, synthesizer, percussion, acoustic and electric guitars, lead and background vocals and some piano. Plus, Fogelberg produced the album himself – a true one-man band. 
The cover of the album is a beige color, with a cartoon orange phoenix connected to a red heart. The cover art is, unsurprisingly, also designed by Fogelberg. On the inside, all of the song lyrics are displayed as well as a picture of Fogelberg, clad in '70s denim and wool. 
The album opens with a beautiful instrumental track called "Tullamore Dew," with guitars, percussion, and Prophet 5 synthesizer, all credited to Dan Fogelberg. On the flip side of the album, the song "Heart Hotels" features solos on both saxophone and lyricon – a rare electronic wind instrument – performed by Tom Scott of the Blues Brothers. 
The ballad "Longer" is a perfect love song. The song's chorus resonates with the audience: "Longer than there've been fishes in the ocean / Higher than any bird ever flew / Longer than there've been stars up in the heavens / I've been in love with you." 
The song also reached No. 2 on the Billboard Singles chart. Jerry Hey, known for playing on Michael Jackson's Thriller and songs such as Jackson's "Rock with You" and "Don't Stop 'Til You Get Enough," performs a flugelhorn solo on "Longer." 
Fogelberg also used his songs and earnings for good. The credits on the inside cover state "Dan Fogelberg's share of publisher and writer royalties received from "Face the Fire" have been donated to the Campaign for Economic Democracy Education Fund to be used for anti-nuclear and pro-solar energy activities."
Phoenix charted at No. 3 on the U.S. Billboard Pop Albums chart, and proceeded to sell over 2 million copies. 
Now copies of the album are being passed down to new generations of listeners, showing that Fogelberg's music has a lasting impact on the music world.