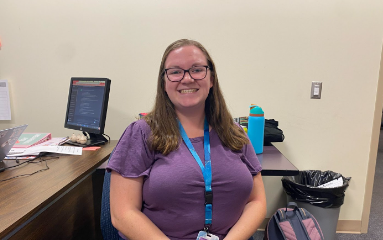 Special Education teacher Riley Debski may be new to Baldwin staff, but she's no stranger to the district. 
While Debski grew up in Mt. Lebanon, both of her parents and the majority of her extended family graduated from Baldwin High School. She eventually found her way back to the school after studying to become a teacher. 
"I know Baldwin. My parents graduated from here, so it's really cool to have the opportunity to teach where they graduated from high school," Debski said.
Debski always knew she wanted to be a teacher, but it took some exploration to settle on a specific career path. A key moment came when she participated in a church program that paired her with a special needs student during CCD. 
"You had no training. It was trial and error the whole way, and I ended up loving it, and I was there for five years," she said. 
Debski co-teaches a variety of math classes at Baldwin alongside Stephanie Morrison, Rich Fochtman, and Donna Vecchio. 
This is Debski's first year teaching, although she's worked as a curriculum director for math assistance programs for elementary and middle school students who live in the Hill District. Previously, she earned her undergraduate degree in mathematics at Pitt, as well as her master's in special education and secondary mathematics. 
"Everyone here has been super welcoming and helpful, and as a new teacher, I have a lot of questions," she said. 
Outside of school, Debski enjoys reading and is an avid Pitt and Steelers football fan.