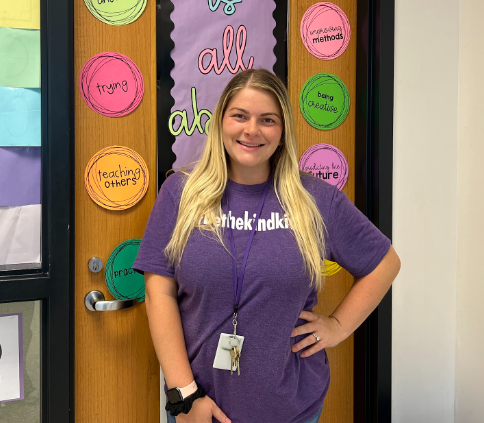 New math teacher Stephanie Morrison plans to bring her skills from coaching softball into her classroom. 
"I bring my experience from the field as a coach into my classroom in many different ways," Morrison said. "When a girl on my team makes a mistake, I tell her what mistake she has made, what she should have done, and why. I carry the same mentality into my classroom."
Morrison coaches her daughter's community softball team and said that she always wants her students – in the classroom and on the field – to get back up on their feet. 
"It is easier to correct yourself and not make the same mistakes again when you take the time to learn why you made the mistake," Morrison said. "I like to remind my students that a positive attitude and practice is what will make them perfect." 
Morrison played volleyball, basketball, and softball throughout her high school career. 
"I know that most students in high school take part in sports and clubs, and find themselves crunched with time, so I try to give reasonable amounts of homework, and time in class to get it done," Morrison said. "Kids still need to be kids, but they also need to learn how to find a balance … by prioritizing work, building time management skills, and reaching out for help when they need it." 
Morrison said she found her inspiration to be a teacher at a young age but it took her some time to return to her passion.
"I wanted to be a teacher ever since I was little. My aunt was a teacher, and she would always give me her old teacher textbooks, and then I would always use them to teach my imaginary classroom," Morrison said. 
She first completed a couple of years of pharmacy school at Duquesne University and a bit of engineering at the University of Pittsburgh before getting her undergraduate degree in mathematics and a master's in education.
"The reason I went away from teaching was that when I was in high school there were not many teaching jobs available," Morrison said. "But in a few years jobs started opening up a little more, so I took the leap and switched to education." 
Morrison worked at a few other schools before she decided to join Baldwin. 
"I worked at Propel Schools for a couple of years, then I was at Canon-McMillan High School for a year." 
Morrison joined the Baldwin-Whitehall School District three years ago in the middle school, and she has now joined the high school staff. 
Morrison said she is excited to be back in a high school setting. 
"I think high school is a great place because students are getting ready to make big decisions – deciding their colleges and careers," Morrison said. "I had some great math teachers in high school, so I am hoping to be like them. I want my students to enjoy taking my class, and take the skills they learn into college."