Touring version of `Evan Hansen' surpasses soundtrack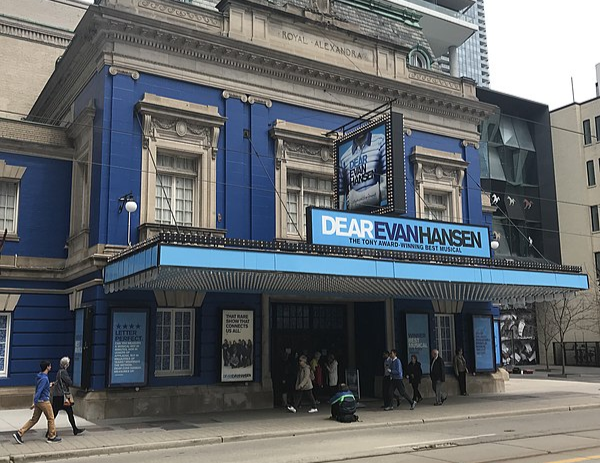 Most people walk into a popular musical assuming it will only be as good as its soundtrack. But with Dear Evan Hansen, that is not the case. 
The musical came to the Benedum Center on May 2-7. 
The show was about a high schooler named Evan Hansen who gets caught in a web of lies, leading the whole school (and eventually the internet) to believe that he was friends with a classmate who had killed himself. 
Watching Dear Evan Hansen on stage makes clear why it won six Tony Awards and has been praised by critics as one of the best Broadway shows. Additionally, It brings topics like mental health, anxiety, and grief into the light of the Broadway world. 
The soundtrack is well-developed and even those who didn't get the chance to see the show can pretty much figure out a generic premise of the plot. The music ranges from upbeat songs lined with comedy to sad songs with heavy topics. 
As someone who has heard all of its music a million times, I found that actually watching the show revealed a better story than the songs ever could. 
For instance, songs like "Good for You" might make it seem like the show would be all about Evan's flaws, selfishness, and bad decisions. But really, lots of important scenes actually display how awful his friends could be. 
Jeffery Cornelius stood out as the lead of Evan. He absolutely embodied the character and made all of the character's emotions feel a lot more real. His mannerisms were really specific and set apart his rendition of the character from other actors. 
Alaina Anderson did a fantastic job playing Zoe Murphy, the female lead. She not only had a beautiful voice but integrated feelings into her acting during emotional songs like "Only Us" and "Requiem."
The set and costuming were relatively simple during the show. Larger pieces were on platforms to clear the stage as other pieces took their place. The cast was small and everyone's costume was simplistic – mimicking clothes people would actually wear in real life. 
The show used projections multiple times to set apart the settings in scenes that depicted multiple characters in different places. The projections were really smooth, especially when used to show characters entering and leaving calls or interacting on the internet. 
However, projections were also used in scenes that didn't need them. For example, during "You Will Be Found," there were screens mimicking what we were seeing on stage and random characters from the fictional world. "You Will Be Found" is already such a popular and well-loved song that fans would have been perfectly content with simpler scenery as Cornelius sang. 
Besides that, the musical was great and definitely worth all the applause and publicity that it has earned over the years. Even without a flashy set, costumes, or lighting, the talent and engrossing plot were obvious.