Through multiple clubs and projects, Benedict has made her mark at Baldwin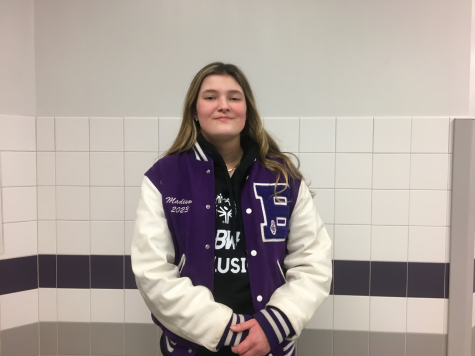 Marketing came so naturally to senior Madison Benedict that her family would host yard sales when she was 7 years old because of her sales ability.  
"I would put a lemonade stand by the yard sale to bring more people in," Benedict said. 
She also once sold almost 200 Skylander figurines of her own one time, using her own special techniques.
"I would say things like, `If I charge you $5 for this figurine, I will only charge you $3 for this one," Benedict said. 
Her love of and natural instinct for marketing continues today, and she now is the first Baldwin student to complete the BNY Mellon Early College CCAC program, where she earned credits in business and marketing and is earning a business and marketing certificate. It is just one of the many projects she is involved with as a student.
The CCAC program allows students to earn college credits while in high school, either online or in after-school CCAC classes. These credits will transfer to other colleges because CCAC is an accredited program. Benedict has 19 credits from participating in this program, she said. 
Benedict thought so much of the program that she helped social studies teacher Natalie Grattan get the word out about it.
"It was really unusual that a student came to a teacher they didn't know, but she was such a believer in this and she really wanted to help out," Grattan said. "She is a really helpful student."
Johnny Marcolini, the director of CCAC's Early College program, agreed with Grattan and said Benedict is impressive because of her dedication to balancing high school and college at the same time. 
Benedict has helped advertise for the program and has earned the title of spokesperson for the CCAC program at Baldwin. As a spokesperson, she is featured on brochures and the CCAC website and continues to make promotional video clips for the program. 
The college will hold a ceremony to honor Benedict as the first high schooler to earn a certificate from the Early College program, Marcolini said. 
Benedict really stood out when she "came to campus to say hi and thank us in person" for offering the program, Marcolini said. 
But Benedict's activities don't end there. She is the National Honor Society president and producer of numerous video production projects. She holds a black belt in karate and is a student teacher for belts below her. She is the drumline section leader for percussion and has volunteered at the Whitehall Library, the Keystone Young Marines program, and the Baldwin Bean. 
One of her most time-consuming roles is being NHS president.
"It's a full-time job. People come up to me in the halls or in my classes with questions about events going on," Benedict said. 
One of her favorite roles is helping run most of the projects in video production class, she said. Teacher Christopher Tator said Benedict "completely takes over" when it comes to projects. 
"She comes to me with a project idea, and I just give her my approval. She carries everything else out by herself," Tator said. 'She is really self-sufficient and manages everything really well.' 
As for her remaining months at Baldwin, Benedict is working on a big project that she initiated. The Lip Dub will be a video showcasing the different clubs, activities, and sports at Baldwin, with participants lip-syncing to a mashup of popular songs. 
She has endured the challenges and sacrifices that come with her responsibilities. Benedict said she handles the pressure well, and that all of her roles have taught her time-management skills. 
She also uses her family as a big motivator.
"The most important thing to me is my family. They always tell me to keep getting motivated to get anywhere in life, and that's my motivation," Benedict said. 
As for the future, she loves marketing and wants to either be a vice president of a car company or a marketing executive for a film company. 
Benedict is thankful for her opportunities at Baldwin, but she knows there is more to do. 
"We're not at the finishing line," she said. "We're not at the celebrating point."