Tri-M society celebrates music, Baldwin staff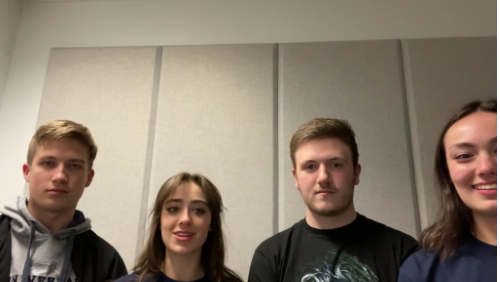 The music programs at Baldwin recently said "thank you" to staff members who make their school life better by sending them musical telegrams during Music in Our Schools Month.
The Tri-M Honors Music Society hopes that more students will join music programs within Baldwin, and has organized events to encourage them to get involved. Seniors Grace Harmon and Morgan Smeal, leaders of Tri-M, worked together with teachers Kris Tranter and Marissa Virgin to come up with ideas that would open up students' minds to the music programs, such as band and choir. 
At the same time, they wanted to recognize the contribution of the Baldwin High School staff to our school and community. They came up with the idea of singing telegrams, recorded and then emailed out to nurses, secretaries, the school board, the bus garage, security, and the food service staff. 
"They got to choose a song for that group that best describes them to say thank you," Harmon said.
Nurse Ann Harmon was one of the staff members who received a singing telegram. Juniors Matt Colwell, Katie Weber, and Gale Pryke worked together to create a video dedicated to the nurse who helps the school every day. 
"It was really nice to be recognized like this since we're not always included with the teachers," Ann Harmon said. "It wasn't really a surprise since my daughter was organizing it, but these kids definitely worked hard on it for me. It really makes me feel appreciated." 
Tranter teaches choir and many other music classes. He believes that the department should be student focused, rather than fully led by a teacher, which lets his students express their creativity, especially within their music.
Tranter met with Harmon and Smeal to discuss using Music in our Schools Month to celebrate their existing programs and to bring in new students.
"Our goal was to come up with ideas that were both practical but also meaningful and exciting," Tranter said. "They are two great students," he said of Smeal and Harmon. "We all are very proud of what they came up with."
The group organized a Unity Day on March 24, bringing the band and choir together to commemorate the hard work they have done all year. 
Students who join any of these music programs – from piano through singing to guitar classes and beyond – will meet new people, learn new skills, and better themselves all around, Harmon said.
"From my freshman year and beyond, I have gotten myself involved in every program that I can. I just think it gives students a great creative outlet and a great way to get involved in the school," Harmon said. 
An additional activity was bringing in a guest speaker from Duquesne University to speak about careers in Music Therapy. The organizers hope this will persuade students to pursue music into the future, even after their high school career.