`Shazam' sequel offers some redemption for DC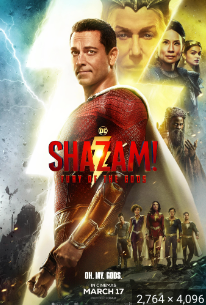 The newly released sequel, 'Shazam! Fury of the Gods,' is lighthearted and full of action. 
The movie continues the story of Shazam (Ross Butler) as he learns more about his powers and now tries to bring his team closer together. As for Billy Batson (Asher Angel), he struggles with the possibility of losing his foster family as he nears the age of 18. 
Trouble breaks out early on in the film when the daughters of Atlas begin to cause mayhem as revenge for the theft of their home. The movie becomes action-packed from that point forward and is entertaining to watch. 
Butler offers an excellent portrayal of Shazam as he efficiently encapsulates the mind of a teenage boy. His character is full of humor, but he is able to show character development as the movie progresses. 
The film's main flaw is the ending. It isn't ideal and does not completely make sense. Other than that, the movie consists of many comedic moments and overall provides some redemption for DC.