Indoor percussion gearing up for April championships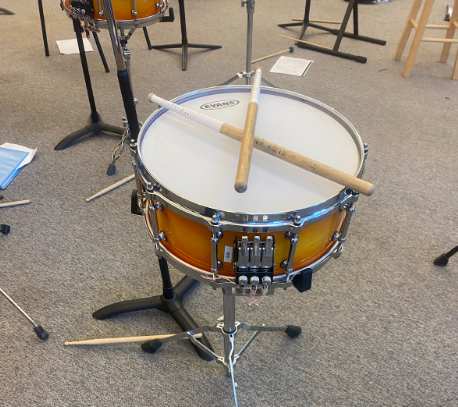 While the students in the marching band are most known for performing at fall football games, many of them spend the winter competing with indoor percussion. 
Senior Nolan Dowling has been playing the snare drum for the past four years. Unlike some of the other indoor percussion members, he plays the same instrument in the marching band, rather than switching to a different one. 
The indoor percussion practices over eight hours a week, on Tuesdays and Thursdays. Their competitions are on Saturdays. 
"It's more upfront and intense compared to marching band," Dowling said. 
The marching band performs together with the guard in the fall, when playing at half-time shows or competing. The indoor percussion and indoor guard, meanwhile, go to the same events, but practice and compete separately. 
Sophomore Hannah Damiani plays the flute during marching band season, but switches to the bass drum for indoor percussion. This is her first year doing indoor, but she has been with the marching band for two years. 
"It is hard learning to play a new instrument especially because I'm used to wind instruments like the flute, and the drum is very different and huge so that makes it harder to play well," Damiani said.
With indoor percussion there are two groups: the front ensemble and the battery. The battery marches with the drums while the front ensemble stays stationary and plays. 
"It's different from marching band because there's no wind instruments, only percussion like drums and the front ensemble," Damiani said.
Every season has a different theme, this year's theme is "Into the Wild," which is reflected in the music, costumes, and scenery.
The TIA championships will be held in April. Last year, Baldwin's indoor percussion took first place.
"It is extremely intense … but I will miss competing with my friends," Damani said of the indoor percussion season. "There isn't very much winning or losing – just trying your best and getting the best score possible." 
Sophomore John Mikalvic has been playing with indoor percussion and marching band for two years now, playing the snare drum for indoor percussion and the trumpet in marching band. 
"I just love hanging out with my friends and playing the music," Mikalvic said.