`Creed III' looks back to offer a modern spin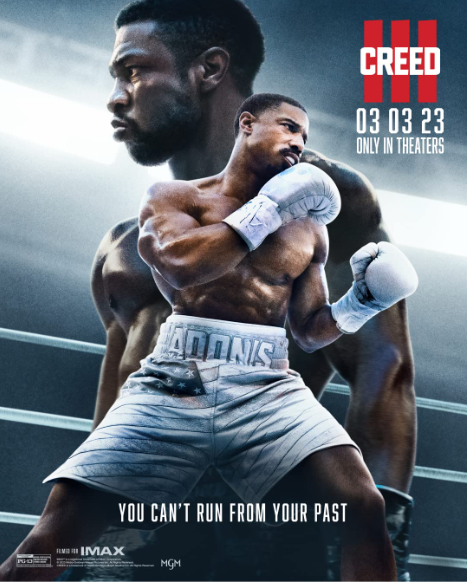 The first Rocky movie came out in 1976 and the sixth movie, Rocky Balboa, arrived 30 years later. Then in 2015, the Rocky series picked back up, but with the son of Apollo Creed, Adonis Creed, as the main character, and Sylvester Stallone's Rocky character as a side character. 
Throughout the first two Creed movies, Adonis greatly struggled with living the legacy of his father, Apollo. Creed III, unlike the first two, focuses on Adonis's past rather than how he can maintain his father's legacy in his matches. 
He is faced with an abrupt reminder of his past and despite the success he has found in his boxing career, he struggles to find peace in his future because has not yet found peace with the issues of his past.
The movie tackles a lot of problems people have in real life with dealing with their emotions. The movie presents the symbolism of "fighting" one's past and the difficulty that comes with unresolved internal conflicts. 
Although his past is a large focus of the movie, there is also a side plot that has a lot to do with Amara, the daughter of Adonis and his wife, Bianca. The focus on Amara leads to some speculation that she will also become a fighter like her father and be a focus of possible future movies.  
The movie also reminds viewers of characters within old movies. There are similarities between some characters in Creed III, such as Mane, and characters from older Rocky movies, like Clubber Lang from Rocky III. Neither are wealthy characters and they make their name by challenging a big name in the boxing community. 
Tommy Gunn and Rocky's dynamic in Rocky V reflects the relationship between Adonis and Mane in Creed III. The struggling boxer looks to the champion for help, but when he gets big, he drops his trainer and lets the fame get to his head. Finally, in Rocky V, Rocky begins to teach his son how to fight, just like Adonis is teaching Amara in this movie.
It gives older audiences a good feeling of their youth while also adding more of a modern spin. This movie is a great way to capture everything the Rocky movies have been, and it gives new audiences a perspective on how older audiences felt from 1976 to 2006.