Eilish disappoints with new concert film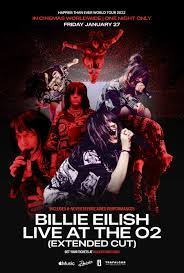 The concert film Billie Eilish: Live at the 02 offered an opportunity for fans to see Eilish live, but also came with controversy and false advertising. 
The one-day event in movie theaters allowed fans who were unable to attend the physical concert the chance to experience Eilish's performance in the more intimate, cinematic setting. That being said, some of the crowds were a little bit too excited, to the point of disobeying cinema rules. 
While many people are understandably torn on the behavior in the theaters, the concert-like environment led to an unforgettable experience. 
As for the content of the show itself, it wasn't anything that people hadn't seen before. The content was pretty monotonous and a straight-up video recording of her previous concerts, which was disappointing, especially because the film was praised for having "never-before-seen" footage. 
Even though it was a bit underwhelming, the concert still allowed fans to come together and share their love for Eilish, who, regardless of the repetitive setlist, is still a great performer. 
Overall, the show was able to create a unique environment and, controversies aside, showcased Eilish's immense talent.