Sci-fi movie `Jung E' disappoints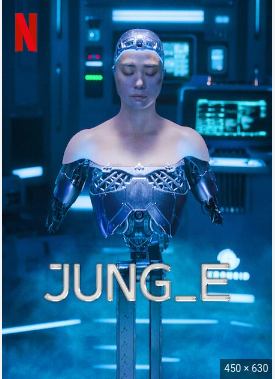 Netflix's new Korean sci-fi action movie Jung_E is set almost 200 years in the future in a post-apocalyptic world. The film predicts that by the year 2194, extreme climate change will force most of humanity to move into shelters built in outer space. 
At the beginning of the film, viewers are told that humans have split into two factions and are amid a long civil war that is being fought mainly with AI. Earth has become a slum and is the place where weapons are produced. 
The story is told from the point of view of a researcher named Seo-hyun, who is creating an AI soldier based on her war hero mother. 
Yun Soo-yeon's character is played by a popular Korean star, Kang Soo-yeon, who passed away shortly after filming the movie. This was her first time returning to the big screen after a decade-long break. 
The director, Yeon Sang-ho, who shot to fame with the hit film Train to Busan, is facing criticism for Jung E, which did not live up to the expectations of fans. 
The most disappointing part of the movie is that the intercolonial war that is teased in the introduction of the movie plays little importance to the story and remains a backdrop that the audience gets no additional information on. 
The characters are not well developed and seem flat compared to what audiences saw in the movie Train to Busan. 
The plot is also choppy and shifts too quickly. The movie starts off with an interesting fight but then turns bland. The ending is also weak and unfit for the kind of expectations sci-fi movies come with. 
The only good part of the movie comes from its visuals. Minus a few bugs in the CGI, the movie's few action and fight scenes are delivered efficiently.