Puss In Boots: The Last Wish returns with new adventures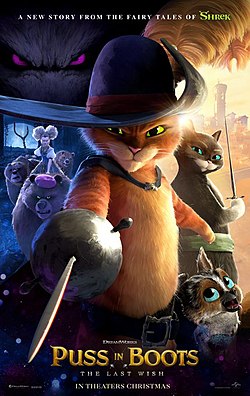 In terms of movies in the Shrek franchise, Puss in Boots: The Last Wish is one that stands out.
In this adventure comedy, Puss in Boots, voiced by Antonio Banderas, discovers that he is in his last life. Puss sets out on an epic journey to find the mythical Last Wish and restore his nine lives. He is joined by fellow thief-turned-adventurer Kitty Softpaws, voiced by Salma Hayek, and a comedic therapy dog-in-training looking for a name, voiced by Harvey Guillén.
However, he is faced with other fairytale characters searching for the Last Wish, such as Jack Horner, voiced by John Mulaney, Goldilocks, voiced by Florence Pugh, and the three bears. But the one villain that truly turns this movie into a masterpiece is the Wolf, voiced by Wagner Moura, who enforces Puss' fears of death. 
The art style is one thing that separates this movie from others in the Shrek franchise. Instead of the realistic animation style in 2011's Puss in Boots, The Last Wish has a more creative and stylized animation, similar to 2018's Spider-Man: Into the Spider-Verse.
The backgrounds and characters have a paint-like quality to them, with a considerable amount of attention to detail, which makes watching it again an adventure.
Looking beyond the surface, The Last Wish has an accurate portrayal of panic.
Puss in Boots is known around the world as a "fearless hero"—a motto which has carried him throughout his eight lives. He now has to face his overwhelming fear of death from the reality of being in his last life.