Boys basketball splits season-opening tournament games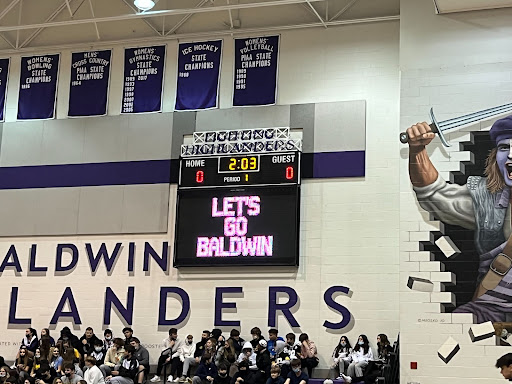 Over the weekend, the Baldwin boys basketball team split its first two games, beating Altoona on Saturday after losing to Chartiers Valley on Friday.
Junior guard and team captain Nate Richards felt Saturday was a complete reset from Friday as the Highlanders had a much better outlook on the game.
"We improved on our overall energy from Friday night," Richards said. "We want to play at our own pace, not letting the other team change the way we play, and we did a good job of that on Saturday."
He felt that something they were able to do well across both games was running the floor.
"We were very good in our transition offense on Friday and Saturday," he said. "We got the ball up the court quick for easy layups."
Unlike Friday's game, the Highlanders started off energized and hot on Saturday. 
"We got a quick and early lead on them. We got into our press defense and caused a lot of turnovers and capitalized with quick points," senior James Wesling said. 
In Saturday's game, the team also was able to get some bench guys some minutes at the end of the game.
"It's great seeing those guys get in the game," Richards said. "It gets the young guys experience so they can have more of an impact on games in the future."
Wesling said senior AJ Cherico added a much needed energy boost on both ends.
"AJ played really well on both sides of the ball," he said
Wesling said it wasn't just one player who was key to staying in the Friday game.
"Matt Schenk and Nate Richards helped us stay in the game late in the game," he said. "Joe Carr was very focused the whole game."
Richards thought sophomore Matt Schenk made a big difference in Friday's game.
"He was a threat on offense in the second half of Friday's game," he said. "He had a great pull-up jumper and his and-one layup really got our momentum going in the fourth quarter."
Wesling thought the Friday game started to get away from the Highlanders towards the middle of the game.
"In the second and third quarter … we could not score as well as we normally do," he said.  "It also didn't help that Chartiers Valley was scoring."
Despite only losing by one on Friday, Richards sees some areas that the team could improve on.
"We can improve on our man-to-man defense and move the ball quicker on offense," he said. "I think at some points on Friday we dribbled the ball a little too much, which caused some unforced turnovers."
Wesling felt the team needed to play smarter.
"We can improve on our offensive consistency," he said. "We have to limit the fouls so we can play more aggressively."
He also thought the Highlanders held Chartiers Valley's standout guard Jayden Davis pretty well.
"We played strong man-to-man defense through all four quarters," he said. "We contained their point guard Jayden Davis to the best of our abilities."
The boys team plays next against Thomas Jefferson on Tuesday at 7:30 p.m. at home.