Drowse returns with perfect album for late fall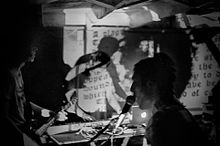 Drowse's fourth studio album is a perfect addition to an already excellent discography.
Drowse is a Portland, Oregon, based audio-visual project created and performed by Kyle Bates. Drowse takes key inspiration from dream pop, shoegaze, post black metal, ambient, and alternative rock.
His most recent project breaks a three-year hiatus. Wane Into It has nine tracks that span 45 minutes, which is quite an exceptional length compared to his previous projects.
Each track packs its own unique punch, delivering themes of loneliness, regret, and shame. These themes are accompanied by melancholic vocals and ambient, chilling instrumentals.
However, the album is lacking in replayability, since some tracks that are purely ambient noise eventually lack the same effect they had on the first listen. Also, the final 40 seconds of the track "Blue Light Glow" sound like a class of elementary schoolers playing around with recorders for the first time.
Still, Wane Into It is the perfect album for the late fall and early winter, when the nights get longer and the days get shorter.