Marching band members reflect on a successful season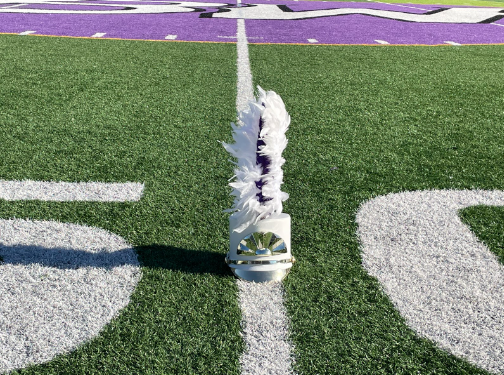 When the final scores were announced at marching band PIMBA championships last month, senior clarinet player Rhyan Ogrosky was left amazed. 
The band had placed second and had earned a score of 85.7 – the highest PIMBA score the Baldwin marching band has ever received.
"Breaking a score record is not something that happens often, and I'm so grateful that we were able to achieve so much," Ogrosky said.
Junior color guard member Julia Graham said preparing for the PIMBA competition was stressful since the judges would often give conflicting comments. However, she is happy with the overall results of the season. 
"It feels really good," Graham said. "I feel like we've completed our goal and our director is happy." 
Baldwin marching band Director Marissa Virgin said this was the most challenging year for the band. The music choices were harder than usual and the students played more complex meters. 
"All season long we were fighting to get our music locked in in our third movement," Virgin said. 
Virgin said that each student in the band improved from the beginning of the season, whether it was in marching, playing, or visuals.
"This activity needs 100 percent from everyone and everyone's efforts matter," Virgin said. 
The band had been preparing since June. 
"They have a rigorous schedule, but you rarely hear complaints because students enjoy what they are doing," Virgin said.
This record PIMBA score was particularly special for seniors like Ogrosky and senior drum major Anna Schmidt since this was their last year in the Baldwin marching band. 
"It's pretty sad it's over since I've been a part of this for so long, but I feel like it's giving me a new thing to look forward to, like college marching band or becoming a music educator," Schmidt said.
Senior drum major Nolan Dowling could not wrap his head around this being his final year either.
"It felt weird being a senior and helping out the younger class," Dowling said.
After a successful season, students are relieved and look forward to a break to catch up on schoolwork and relax.
"I'm honestly relieved it's over since it takes up so much time, but I'm going to miss it," Ogrosky said. "It's weird going from dedicating most of your time to something to its ending." 
However, it's not the end for all marching band members, since the indoor season is about to start soon. 
"We start all over again, but in a little bit of a different environment," Virgin said.