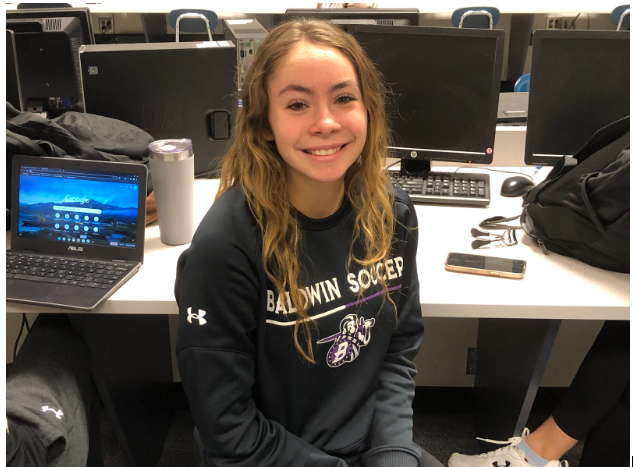 Despite team record, soccer has meant a lot to Scheeser
Senior Sara Scheeser, a captain and defender for Baldwin's girls soccer team, has been playing since she was 5 years old and has made many memories. One key moment came last week, when Baldwin defeated Hempfield 6-0 in the senior rec game.
"Baldwin hadn't won a senior rec game in a really long time, so the whole night everyone was so excited and it was a great feeling," Scheeser said.
Scheeser scored her first-ever varsity goal in the game. 
"This being my last home game, it was really special to play with some of my best friends and to celebrate with them," Scheeser said. 
Scheeser joined soccer to play with her friends. She then fell in love with soccer and is now thinking about continuing it in college. 
"Soccer started as something fun to do with my friends and now it has become one of the most consistent things in my life," Scheeser said. 
Scheeser has made some of her closest friendships through soccer. Senior and teammate Adrianna Grande is one of those friends.
"Sara and I started playing together when we were 8 years old in rec soccer," Grande said. 
Another teammate, senior Olivia Seiler, said she has had many memorable moments with Scheeser and sees her as an inspiration. 
"Sara has a drive that not many other people do. She goes above and beyond in everything she does, and her hardworking attitude motivates the team." Seiler said. 
Along with soccer, Scheeser also plays lacrosse and participates in National Honor Society, Best Buddies Club, and Special Olympics. 
Managing her study time with those activities can be hard. 
"I try to get all my work done before or after soccer, so when I play it's the only thing I focus on," Scheeser said. 
The girls soccer team has struggled throughout Scheeser's time in high school. But that has not affected Scheeser's love of the sport.
"For the past four years, our record has not been great, but we've been building up as a team," Scheeser said. "Our coach and we as players support each other through every loss and win."
Scheeser's mentality about the sport is really what has driven her to stick with soccer. 
"I go to every game hopeful that our team will give it the best we can and play our hardest," Scheeser said. "Even when we lose, we focus on the things we did and make plans on improving on what we lacked."
The team focuses on small goals and improvements, so accomplishing those encourages the team and makes players feel good even if they didn't win the game itself. 
Overall, it has been an experience she won't forget.
"I am going to miss all my teammates, especially the moments we share during the bus rides to away games," Scheeser said.