NFL needs to keep working on concussion, injury concerns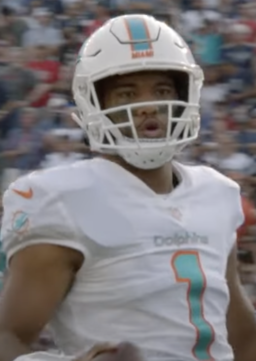 The NFL has come to a tentative agreement with the players association to make stricter rules on concussion protocols. 
The new guidelines will say that if a player shows signs of "gross motor instability," the player will be ruled out to keep them safe. The change is being made after Miami Dolphins quarterback Tua Tagovailoa suffered significant injuries in two consecutive games.
Against the Cincinnati Bengals on Thursday, Tagovailoa took a tough sack, hitting his head against the ground. He did not get up and needed to be put on a stretcher to be taken to a hospital.
This had many players and fans in shock, as they believed he should not have been out there playing that night at all, based on another injury he had suffered the Sunday before that. 
On Sept. 25, Tagovailoa stumbled after trying to get up from a tough hit. Many people assumed he was done for the night and that he could be out for a while. But he came back into that game, which raised serious red flags for some players and coaches.
Based on the first injury, the Dolphins should have known that there was no chance he would be ready to go just four days later for the Thursday game.
The NFL Players Association is starting an investigation into whether the situation was properly handled by the team. The team had declared the initial injury to be a back injury, which allowed him to come back into the game.
Brain trauma like that can have serious health repercussions. Putting Tagovailoa in a situation that could cause him problems for the rest of his life was a risky move. 
Many players have had concussions before and some even more severe, but watching one of the league's young talents suffer injuries in two straight games is very sad. 
Every doctor within the Miami Dolphins needs to be questioned about the process they took with Tagovailoa to pass him through the existing concussion protocol. This information could help the league crack down on teams putting their players through such major damage. 
Tagovailoa has released a statement saying he was feeling better. He is now in the concussion protocol.
The NFL needs to continue to make larger strides in this area of injury to keep the league a safe place. No one wants to see someone putting their life in danger just to do something they enjoy.