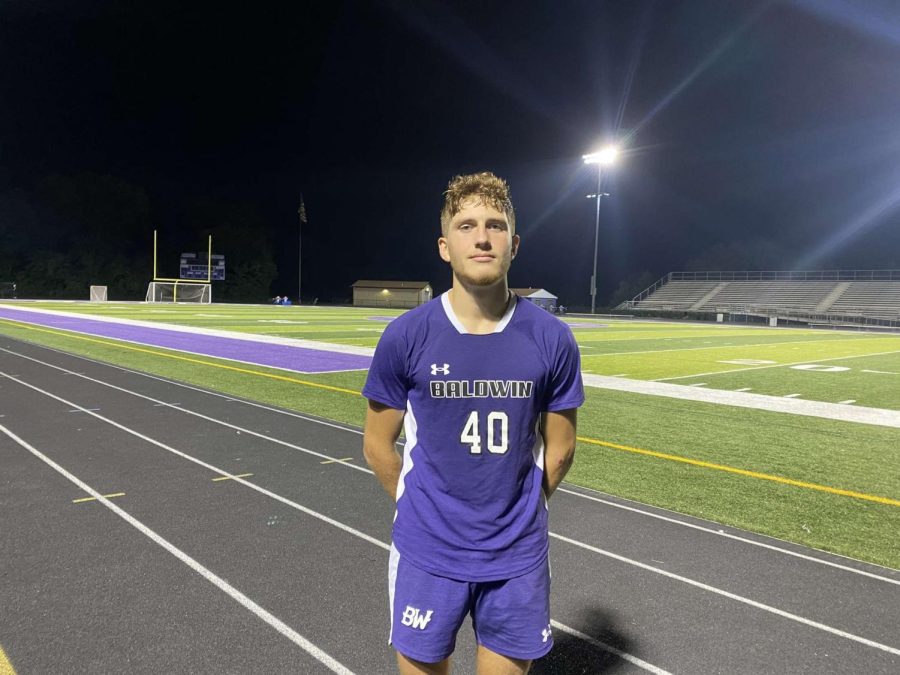 Kunzman gets a kick out of being a four-sport athlete
While many kids at Baldwin High School focus on one sport all year long, junior Jake Kunzman participates in four different sports.
The first sport he started playing as a kid was soccer.
"I started playing soccer when I was 7 years old," Kunzman said. "I decided to play soccer because every kid plays soccer when they are little."
Junior teammate Jonus Ruvolo has played with Kunzman for many years.
"I have played with Jake basically my whole life," Ruvolo said. "He has always been a leader and motivated our team."
One of Kunzman's favorite memories playing soccer came during his freshman year.
"We beat Central Catholic in a playoff game," Kunzman said. "It was a really good experience that early in my high school career."
He plays center back and so far has scored three goals in the season.
This year, he is a captain of the soccer team, which gives him a big leadership role with his teammates.
"I embrace the responsibility of being captain," he said. "My main goal is to push my teammates to get better every day."
Ruvolo believes Kunzman has been a key part of the team this year.
"Jake has just really stepped up and led the team," Ruvolo said. "He has been a role model for the younger guys."
In addition to soccer, he plays football, basketball and track. He started basketball and track in middle school, but this is his first year playing football.
He was approached by a coach to come kick for the football team.
"One of the coaches contacted me to come kick," he said. "So I thought to myself, `Why not try it?' "
Kicking a football can be very different from kicking a soccer ball, he said.
"You have less room for error when kicking a football," he said. "The impact point is much more precise to kick the ball as far as you can."
He has dealt with the challenges that come with being a four-sport athlete.
"It is hard finding balance between school, sports and friends," Kunzman said. "But I just don't know what I would do without sports."
He has learned that it can be tough at times to handle schoolwork and sports every day.
"There have been some very long nights to keep up with school," he said. "I am at the school for 10 hours a day most of the time. Soccer is usually right before football so I am always at the school."
Despite those challenges, he has yet to miss a game in either soccer and football.
He hopes for the soccer team to have a good year but really wants his teammates to succeed and get better as the year goes.
He thinks playing at the next level is a possibility and would love to have the chance.
"I'm not sure yet if I have the opportunity," he said. "I wouldn't be against playing at the next level."