Essential Listening: Gaye captures a time of change in `What's Going On'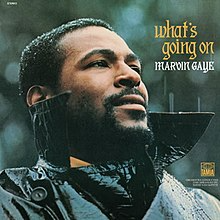 Tired of your Spotify playlists? The Purbalite is here to help with our Essential Listening series.
Marvin Gaye's What's Going On is a soul masterpiece. Written during a time of uncertainty, it's reflective of the tensions America was in at the time of its release. 
This album is a sound of rebellion. 
On one hand, the 1970s were a golden age for soul music. On another, racial tensions were high, hippy counterculture was prevalent, and the Vietnam war was just concluding all at the same time. Gaye's hit single "What's Going On" serves as an anthem in protest of the Vietnam war as well as police brutality, which unfortunately is still applicable today. 
He tackles tough issues on this album while doing it in a way that uplifts listeners. 
"Save The Children," for example, begins as a contemplative and solemn spoken-word piece on the state of the world being unsafe for the upcoming generation, and then it ends in a more upbeat tempo, though it still maintains the song's somber theme.  
The transitions between songs are seamless – as though the album is one song, making it even more pleasant to listen to. The smooth basslines and bongos truly piece the music together.
Being that Gaye was raised in a religious household, it comes as no surprise that he also pays homage to his religious roots on the album. Spirituality is a big theme, which was a change since he had climbed the Billboard charts primarily with his pop and R&B hits. His faith is not only professed in "God Is Love," but also in "Mercy Mercy Me (The Ecology)" and "Wholy Holy." Gaye's vocals, especially on the criminally underrated "Wholy Holy," are mesmerizing. It's a triumphant but intimate song similar to "Flyin' High (In The Friendly Sky,)" which also deserves its flowers.