Here's a `Clue' to this year's winter play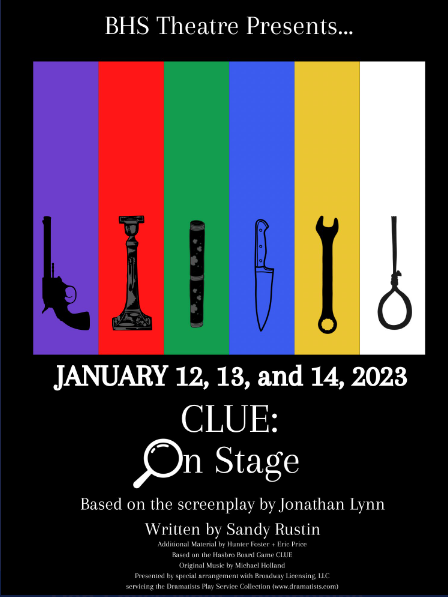 English teacher Cassidy Cooper, the director of the winter play, wanted a play this year that was comedic and known to the audience. That's why this year's winter play, which was announced on Wednesday, is Clue.
The play is based on the well known film and board game. 
The characters "have all been invited to this mansion under mysterious circumstances," Cooper said. 
The story then continues as a case of blackmail turns into a murder mystery.
Cooper considered a few choices for this year's winter play, but after talking with Principal Shaun Tomaszewski and a group of potential student actors, it was decided that Clue was the best option.
"It is easier casting and planning a show when you already know who you have," Cooper said.
Clue will be Cooper's second play as the director. Her first play was last year's Almost Maine.
"Almost Maine and Clue are so so different," Cooper said. "Even the way we do the rehearsal process is going to be different."
Auditions have already started. Students from Cooper's drama class are participating, and other students can see her to audition.
Cooper is looking forward to the production.
"I'm excited and nervous, but more excited," Cooper said.