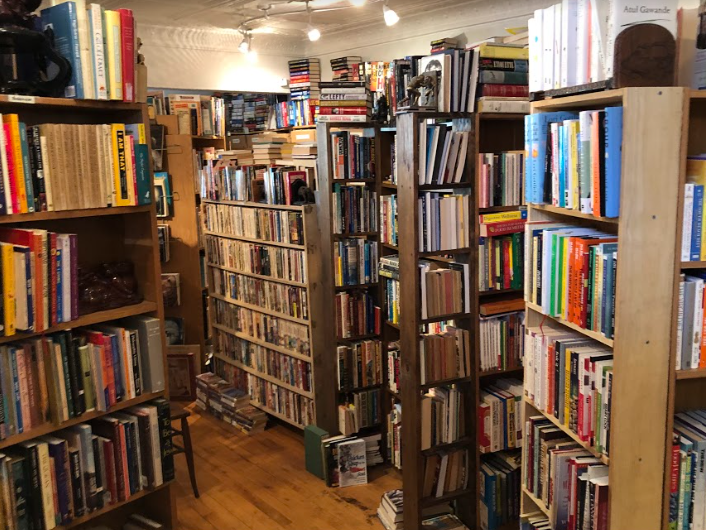 Area bookstores offer your next summer read
June 6, 2022
Summer is here and with it comes the start of the summer reading season. Long warm afternoons with nothing to do? What a better way to pass time than indulging in adventures through the mystical world of books.
Free from all schoolwork, you can finally check out that book you've been wanting to read or find new ones at various bookstores all around Pittsburgh. Books are portals to worlds where you can let your imagination go free while brushing up on your English skills for the next year.
Here are a few of the independent bookstores in and around the Pittsburgh area where you can find your next summer reading book or just have a good time browsing.
His store sells `Amazing' used books, records.
As he was growing up, Eric Ackland read a lot of books about entrepreneurs and biographies of people who had found great success in their lives.
"I take inspiration from the things they managed to do in their lives," Ackland, the owner of Amazing Books and Records, said.
After moving from Philadelphia to Pittsburgh for love, Ackland bought an existing bookstore and renamed it, opening Amazing Books and Records in 2013 in Squirrel Hill.
He enjoys all genres of books but his favorite tends to be 19th-century literature.
"A few of my favorite books are The Brothers Karamazov by Fyodor Dostoevsky, Les Miserables by Victor Hugo, and Anna Karenina by Leo Tolstoy," Ackland said.
Amazing Books and Records operates from two locations – the second is downtown – and Ackland is planning on expanding to reach the most people possible.
This bookstore, which was featured in the New York Times, offers thousands of used books ranging from classics to children's books, and a large collection of records as well.
On a recent visit, first-time customer James Willson was impressed with the store's inventory and Ackland's frankness.
"This is my first time in the store, and from the 10 or so minutes I have been here I feel inspired to go buy a record player," Willson said.
When Covid struck in 2020, Ackland struggled to find ways to maintain the business. To combat the tough times, Ackland came up with the idea of a Love Book Box.
"You tell us the subjects, genres, titles, and authors you like, and we will pick you a box of books for 30 bucks plus shipping and handling," Ackland said.
That challenging year ultimately ended up being the best year since its opening for the business.
"I believe in God, and that all of our struggles come from God and they teach us and help us get better," Ackland said.
Ackland has a positive mindset and is happy to talk to anyone who wants to talk about books. He is not much of a fan, though, of digital books.
"I like the concept of them being easily accessible, but I find them very hard to read," Ackland said.
He recognizes the role that online stores play in book sales.
"Online retailers like Amazon have been a real boon for consumers. When I was growing up, if the book wasn't in the local bookstore or library, you couldn't find it."
Ackland said in the past he used to feel as if he was competing against large chains like Amazon and Barnes & Noble, but now he has changed his mindset.
"What we offer is unique, and even though there are other bookstores in town, I don't see them with the competition," Ackland said. "I would be happy to welcome new bookstores around me."
Riverstone Books fills a void in North Hills.
After the Borders bookstore on McKnight Road closed, Barbara Jeremiah decided to open Riverstone Books in McCandless Crossing to continue to provide books to her community.
"I realized there is no bookstore here, so I opened one for our community to have access to an independent bookstore," Jeremiah said. "I really do think that independent bookstores add to the quality of life, wherever there is one."
Riverstone Books has a wide variety of new books, including fiction, non-fiction, young adult, and a section dedicated to local authors. It also has a children's section, which Jeremiah is particularly fond of.
"I think it's hugely important for kids to be introduced to reading and hopefully have the chance of discovering the joy of reading," Jeremiah said.
The store has been active in the community over the years, having hosted events such as cookbook clubs, jazz nights and storytimes for children.
Unlike big chains such as Barnes and Noble, Riverstone Books is a much smaller store, which makes customer service more intimate.
"We want a place where people feel comfortable just browsing or just sitting and reading. We're happy for folks who come in and spend some time with us," she said.
Riverstone Books now has a second location in Squirrel Hill after the owner of the Classic Lines bookstore was negatively affected financially by the Covid shutdown. The owner approached Jeremiah about purchasing the store in 2021.
"Squirrel Hill is another one of those areas that doesn't have another (store selling new books) nearby," Jeremiah said. "I believe strongly in having folks have access to local bookstores."
Before opening her bookstores in Pittsburgh, Jeremiah bought Undercover Books in St. Croix in the Virgin Islands after it was in danger of closing. She had lived and vacationed there many times and wanted to keep the store alive. Jeremiah eventually sold the store in 2018 when she opened Riverstone.
Though physical books can be more enjoyable and immersive, Jeremiah believes all forms of reading are beneficial and it is up to the person how they want to read.
"I think it's whatever works for you as a reader. I have an iPad that I'll read on it when I'm on an airplane, but I really enjoy reading a physical book much more. So I think it's what the reader prefers, but there's room for more than one format for a book," Jeremiah Said.
Jeremiah wants to continue the success of her stores and independent bookstores in general.
"We all know it is much easier to click and buy a book off Amazon, and probably cheaper, but I don't think Amazon adds to the community's experience and life," she said.
After corporate jobs, she found a home running Beyond Bedtime Books
After leaving her corporate jobs at Estée Lauder and Verizon Wireless, Jamie Grassman pursued her passion of selling books and opened her store Beyond Bedtime Books in 2010.
Grassman originally began her business by selling children's books online, which gained success. This led her to expand to a store in Dormont and sell books from all genres, including popular fiction, non-fiction, and classical literature.
The store only sells used books, and Grassman gains her inventory through donations or buying collections of books herself.
"I wanted to get them organically and have people donate," Grassman said. "There's something comfortable about a used book. It's been loved."
When customers first walk into the bookstore, they are greeted by a multitude of shelves and bins packed with books. Grassman wanted to create a welcoming, New York-style atmosphere.
"I feel like when people come in here they feel like it's home. It takes them out of their everyday life," she said.
Unlike most stores during the Covid shutdown, Beyond Bedtime Books surprisingly became more successful during the pandemic.
"When my storefront closed, I delivered books to anybody in Pittsburgh who wanted books," Grassman said. "I always did all right, but when you're up against it, you really understand what you need to do to save your store."
Grassman takes special pride in her store, which is why, over the last 12 years since it has opened, she has never hired any employees.
"I am the face of this store, and I don't want to miss a customer that comes in," Grassman said. "I want to be here. I'm here seven days a week, and it's who I am. My soul is this store."
Ironically, Grassman opened Beyond Bedtime Books around the same time eBook readers such as Kindles and Nooks were released, but she didn't feel competition from them.
"I wasn't too threatened by it because I knew that people still love the feel of the book. A Kindle is accessible, but I feel that my clientele loves physical books and they love to pass on their favorite book to someone," Grassman said.
Grassman finds it essential to keep physical books alive and hopes her store contributes to the continuation of them.
"In a world with everything going digital, just to have a book with a dust jacket and the smell of a book that's been handed down, is really important to me," she said.
City Books puts emphasis on local authors, events, and the community.
After working as an English professor for 17 years in the Pittsburgh area, Arlen Hess bought City Books in 2015 from the son of the previous owners.
The bookstore originally opened in 1984 as a family business. It is located on Galveston Ave. on the North Side, and is a walkable distance from Heinz Field and the National Aviary.
"City Books is a legend in Pittsburgh, as it is the oldest existing bookstore in the city," Hess said.
Hess has preserved the store remarkably. In fact, the shelves and some decorations in the bookstore today are the originals.
"I feel an obligation to the family who started this bookstore to keep this business up and running," Hess said.
Born and raised in the area, Hess finds it important to keep the "city" in City Books. The store carries a number of works from Pittsburgh writers, along with a curated collection of used books of every genre. The store also offers locally made candles and T-shirts among other items.
"I am not a fan of digital books, as nothing can replace the experience of reading a book in your own hands," Hess said.
Hess said that, unlike online retailers, independent bookstores take on the personality of the owner.
"I find big companies like Amazon as toxic ways of purchasing books. There are many other ways of indulging in books without lining the pockets of top-market giants," Hess said.
Covid-19 was a big obstacle faced by businesses around the world. Like many, City Books had to find new ways of attracting customers.
"Prior to Covid, I didn't sell anything online and had no way of mailing books out," Hess said. "I shifted to social media and worked on making a presence."
City Books now has over 100,000 TikTok followers.
"The profile the store has now, which it didn't have outside of Pittsburgh before, is incredible. I send books all over the country now," Hess said.
City Books is community-oriented, hosting events such as fundraisers, food drives, poetry nights, and artist talks with various authors. The bookstore is open Wednesday through Sunday 11 a.m. to 5 p.m., and it requires masks.
"We think it's important for everyone to get involved in making our city a lasting home for discussion, creativity, and healing," Hess said.