Moore stitches together a creative hobby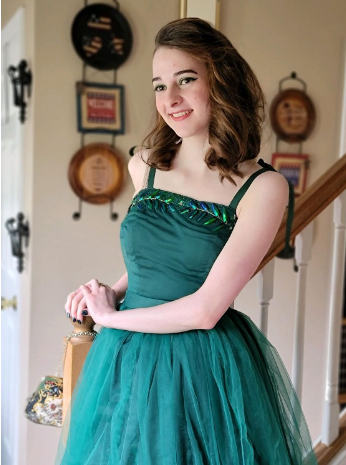 When she was 15 years old, Emily Moore began sewing after wanting to make her own "Will the Wise" costume from Stranger Things for Halloween. Then her new hobby took off.
"It went from just making Halloween costumes to making a lot of stuff I'll wear every day," Moore, a senior, said.
After a few lessons from a family friend on a sewing machine, she taught herself using YouTube videos. Now, Moore makes dresses and skirts and more.
"I don't just make clothes. Sometimes I make jewelry," Moore said. "I make a lot of my own earrings. My favorite kind to make are the ones that I woodburn."
She has sold them at craft shows and a few pairs on Etsy over the years.
Moore uses some sewing equipment that originally belonged to her late grandma. Even though her grandmother passed away before Moore got into sewing, the connection gives Moore a sentimental value in her hobby.
"She had left me all of her sewing stuff," Moore said. It's "a nice way to feel closer to her. I only started to learn how to sew after she passed away, and I really regret not learning how sooner."
Moore loved watching her grandma cross stitch growing up. Her grandma made a quilt for each of her grandkids when they were born.
Moore's family is supportive of her sewing hobby, and they try their best to give input on her creations.
"I think they also really enjoy the fact that I make a lot of stuff for them," Moore said.
Moore has had positive feedback from her peers.
"I am definitely my own biggest critic," Moore said.
She has taken both the Fashion Design and Advanced Fashion Design classes. Her teacher, Virginia Pfatteicher, is proud of Moore and her talent.
"Emily Moore is one of the most talented seamstresses I have ever had," Pfatteicher said.
Pfatteicher feels Moore could make her mark in society as a designer.
"Emily possesses all of these skills and has a very special eye for design," Pfatteicher said.
However, for now at least, Moore takes pride in her hobby and mainly dedicates it to herself.
"Making clothes is just a hobby," she said. "It's just like a way for me to wind down at the end of the day."
She uses her love of sewing as a way to calm herself down and cope with stress.
"When I don't want to think that much, I go start sewing on my sewing machine," Moore said.
The art of sewing is often not found at a young age, and it is unique that it is such a passion in Moore's life.
"I think just being able to have something original … so you sit down with an idea and you can make it. And afterwards, even if it doesn't turn out exactly how I imagined, I'm still really proud of myself because I sat down and made this thing," Moore said.
Moore encourages others to pick up hobbies of their interest. 
"Starting is definitely the hardest part, but once you do that the possibilities are endless," Moore said.