NAHS installs glass-inspired sculpture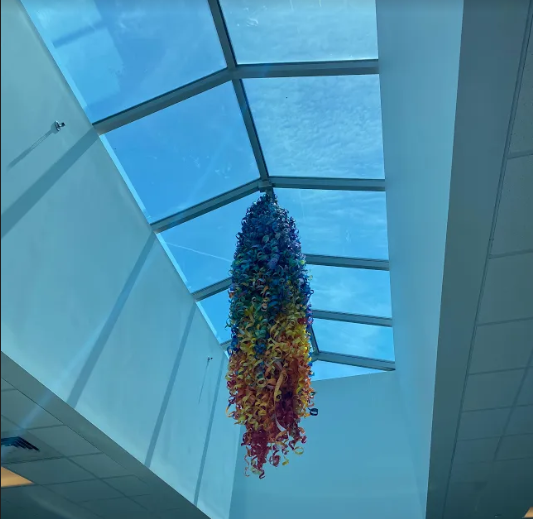 After months of work and planning, the National Art Honor Society has installed a sculpture inspired by the artist Dale Chihuly. It is hanging from the ceiling in the south entrance.
Chihuly is a renowned American glass artist, primarily known for his blown-glass sculptures. Since the art honor society members could not work with real glass, they needed to utilize their resources.
"We wanted to make something near a window where the light was shining through that would mimic glass and the colors. We settled on plastic," NAHS sponsor Nicole Flannery said.
The choice to use recycled water bottles was intentional, Flannery said.
"We wanted to use recycled materials to show how amazing art can be made from anything," Flannery said.
Art honor society members spent their Highlander Days during the 2021-2022 school year cutting water bottles and then spray painting and assembling the installation. The group used over 400 water bottles to create the sculpture and attached the bottle caps to chicken wire to hang them up.
"Anthony Williams, Elena Zandier, Sarah Genovesi and Kaitlyn Mondello did a lot with this sculpture," Flannery said.
The group originally intended to set up the sculpture in an atrium. But because those areas are used by study halls and to safeguard against the possibility of any piece of the sculpture or ceiling falling, the location was moved. Consideration of those issues took time, but Genovesi believes it was worth the wait.
"We needed to talk to a lot of people to get things installed because of safety concerns, so we decided to put it in the entrance," Genovesi said.
Genovesi hopes the school can do similar projects in the future.
"The more art we can showcase in the school, the better," Genovesi said.