Twenty One Pilots film captures concert experience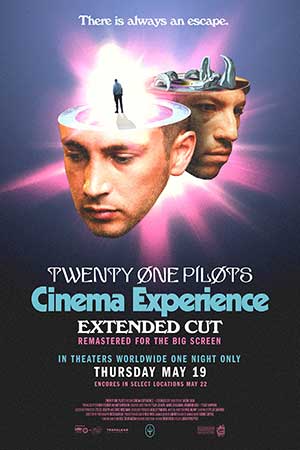 The Twenty One Pilots Cinema Experience offers viewers outstanding musical performances recorded live on vibrant sets, as well as a variety of behind-the-scenes looks at the performance process.
The Cinema Experience, which hit theaters on May 19, is a remastered and extended version of the Livestream Experience, which played online a year ago. 
The Covid-19 pandemic shut down large concerts, so to entertain and maintain a connection with their fans, lead singer Tyler Joseph and drummer Josh Dun came up with the Livestream Experience. But it was not available for rewatching until now.
The film achieves a similar feeling to a concert due to it having been recorded live. It is also much more affordable and accessible than a concert.
The Cinema Experience did screenings across the world in many different countries, often in local theaters. However, most locations only had a few screenings.
Aside from stunning musical sections and stylized intermissions, the film also included 20 extra minutes of video that the Livestream Experience did not have. This included behind-the-scenes footage of the sets used to record the performance. 
Organizing the performance was difficult for the people involved, having been live and recorded all in one take. 
Additional footage, showing off some of the band's earliest performances before they became big, pays homage to longtime fans and shows newer fans the band's original roots.