Gamers sought for Rocket League tournament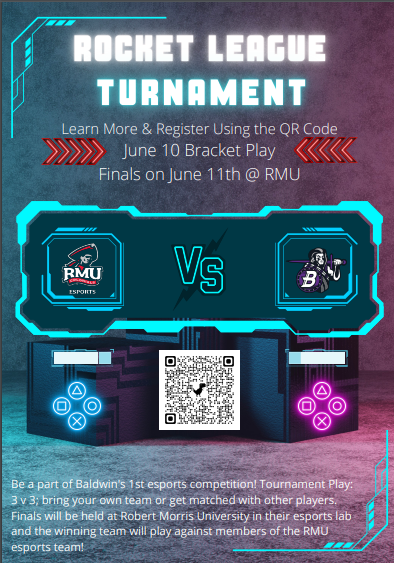 The district has approved an esports team for Baldwin next year, and those interested in competing can demonstrate their skill level at a Rocket League tournament June 10 and 11 that is being put together by Baldwin and Robert Morris University.
The competition is open to all Baldwin students from grades 7-12, with seniors playing in a separate bracket. There were over 800 students who originally expressed interest in esports through a Google Form that was posted on Canvas, and one goal of this event is to identify how many of them are serious about their interest in the program. 
Dr. Janeen Peretin, director of communication, innovation, and advancement, organized the Rocket League tournament with Robert Morris University.
"I was looking for a fun opportunity for students to have their first official school-sponsored event. I reached out to a few people I knew at the university and presented the idea to them," she said.
Rocket League has been a popular game in competitive play. The student interest survey showed that it was one of the most frequently played games by Baldwin students, Peretin said.
The winning team in the tournament will get gift cards.
Junior Daniel Khalil said he was really glad but also surprised that the esports team will become a reality next year.
"When I first heard about it, I was surprised that the school was actually going to make a team. Most of the teachers and staff view it as just another hobby," Khalil said.
Sophomore Riley Morgan says that she is happy to see the school caring about students' interests.
"A lot of people really enjoy stuff like this, but schools don't usually put a lot of attention towards it. It's nice that they finally are," she said.
Junior James Wesling agreed that having an esports team will be great for the school.
"It provides more kids an opportunity to get more involved in the school," Wesling said. 
Khalil is optimistic about competing in the June tournament.
"I am definitely thinking about it, since I am one of the best Rocket League players in the school. I just have to find some teammates. I have a few people in mind," Khalil said.
Morgan said that although she was not aware of the tournament at first, she is definitely interested in participating. 
"I think it's a really cool idea and I'm happy to see that they're doing stuff like this," she said.
Wesling is also optimistic about joining.
"I am 50-50 about joining this tournament. I was excited when I heard about it because it's the start of something new," Wesling said. 
Khalil hopes that people join even if they are not the best at video games.
"People should honestly join just to have fun and make new friends," Khalil said. "But you always know that the true gamers are really competitive."
Next year, the esports program will likely take place through a hybrid model due to limited space in the school, meaning that players may compete from home for some events. 
"We may need to be creative in the space identified for on-site play, and then the goal would be to plan for the following school year so we can get a dedicated space," Peretin said.
Peretin has great hopes for the tournament as well the first official year of esports at Baldwin.
"I'm excited for what this has the potential to evolve into in the next year and several years after that. I hope the students are excited and they sign up to participate," Peretin said.