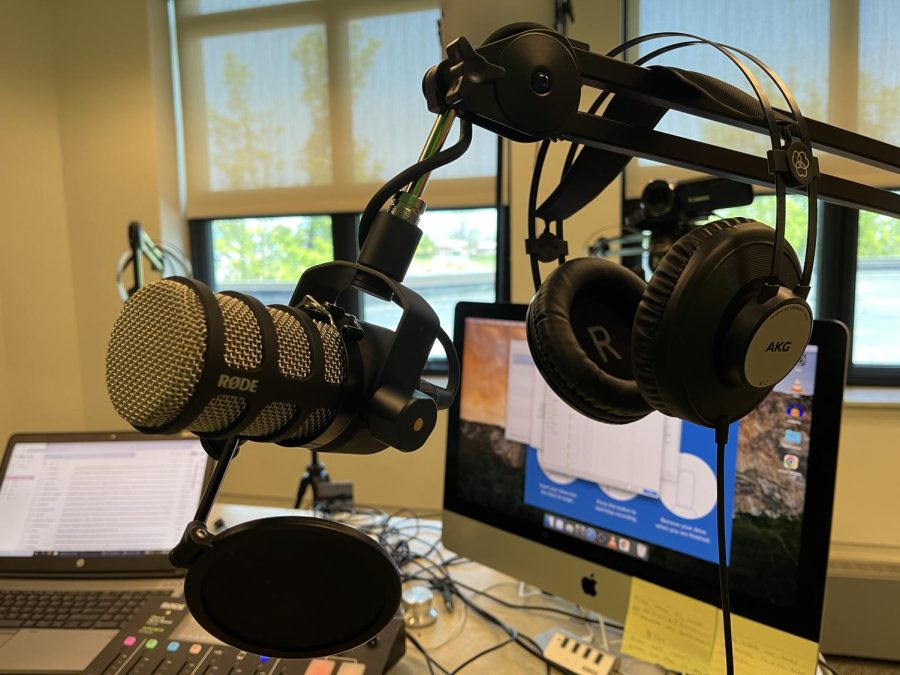 Baldwin staff members share opinions through podcasts, radio
April 28, 2022
Many people like to post their opinions about sports and entertainment on social media, with Will Smith's "Oscar slap" of Chris Rock and the 3,000th hit by Detroit Tiger Miguel Cabrera dominating recent online discussions.
Three Baldwin staff members also love to discuss movies and sports, but they have created their own podcasts and radio shows to do so. Here are their stories.
Dunaway's radio show doesn't spare local teams
When he is on the air with his weekly sports radio talk show, social studies teacher Dave Dunaway never hesitates to criticize the hometown Steelers, Penguins, and Pirates.
"I play the role of the `anti local team' villain, but I have surprisingly amassed a fairly large fan base," Dunaway said. "My core audience expects this to happen every week based on whatever topics are dominating the headlines. Many people have told me that they enjoy a show that 'tells it like it is.' "
Dunaway's radio show is called Sports Voice with Dave Dunaway, and it airs Thursdays 4 to 6 p.m. on WMBS radio out of Uniontown. It can be heard on 590 AM, 101.4 FM and at https://www.wmbs590.com. 
He has hosted the show for 13 years. In that time, not only has Dunaway criticized local teams, but he also likes praising the teams that are hated in the local area. 
"My praise is usually directed to any organization or player that will get under the skin of most people who believe the local teams can do nothing wrong. I constantly praise the New England Patriots organization, Bill Belichek, and Tom Brady for their dedication to structure, discipline, and strategy in winning Super Bowls," Dunaway said. "I praise the Dodgers and Yankees each year for their dedication to trying to win a World Series. These are all designed to be knocks against the Steelers and Pirates," he said. 
Dunaway does not have guests on the show anymore, but earlier in his career he had some big-name athletes. 
"I actually had guests during the first few years. I've interviewed Andrew McCutchen, Neil Walker, and Steve Blass. They were all outstanding and very easy to work with," Dunaway said. 
He stopped taking guests for timing and pacing reasons, he said. 
"
My praise is usually directed to any organization or player that will get under the skin of most people who believe the local teams can do nothing wrong."
— Dave Dunaway
"If I was able to choose one person to break that trend, it would have to be Tom Brady. I can't imagine anyone that people from this area would want to hear from less than the guy who had the Steelers' number for the last two decades. It would fit my style perfectly," Dunaway said. 
Dunaway got his start in the radio business when he was promoting a sports memorabilia business he was involved in. 
"I changed the format to sports talk at the last minute because the first show was the day after the Steelers won the Super Bowl in 2009," Dunaway said. "The station offered me a contract to continue, I've been there ever since," he said.
While juggling the weekly radio show with his teaching job, Dunaway experiences some timing issues. 
"It's tough, due to the fact that each show is live and done on Thursday.  During the school year, I am struggling to get to Uniontown by 4 p.m., but it's much easier to manage in the summer months," Dunaway said. 
Harrold's podcast revisits Oscar winners
Lots of movie fans tune in to the Oscars to see which film wins Best Picture. But English teacher Dr. Dan Harrold has a podcast discussing every Best Picture winner there ever was.
Harrold teams up with an old high school friend to record the Cinema Cemetery podcast every two weeks or so. Harrold, a movie enthusiast, and his friend, a podcast enthusiast, decided to work together about two and a half years ago, he said. 
"While I had seen every Best Picture winner about a decade ago, my friend had not, only having seen a dozen or so," Harrold said. "We saw this as a good opportunity to check out and discuss a lot of good movies, as well as see how films have changed throughout time, and reflected the different time periods," he said. 
They already have made their way through a lot of the Oscar winners.
"We do about two to three episodes a month, and have currently made our way from 1928 all the way to 1999. Our next episode is going to be Gladiator," Harrold said. 
Among the Oscar winners, Harrold has some favorites. 
"
While the older movies can be challenging – the early sound films like The Broadway Melody (1929) or Cavalcade (1933) are rough – a lot of them have surprising value"
— Dan Harrold
"Some movies are classic epics for a reason. Lawerence of Arabia, The Godfather, and Gone with the Wind remain timeless classics for their scope and scale. Other older films, like All About Eve and It Happened One Night, remain excellent too," Harrold said. 
On the other hand, some movies are difficult to watch today, for a variety of reasons.
"While the older movies can be challenging – the early sound films like The Broadway Melody (1929) or Cavalcade (1933) are rough – a lot of them have surprising value," Harrold said. 
"It's typically been the overly dramatic slogs of the 1980s that have aged worse, like Ordinary People (1980) and Terms of Endearment (1983), or the less popular musicals Oliver! (1968) or Gigi (1958).
Harrold is determined to finish all Oscar winners all the way to present day, but then he wants to continue doing podcasts about movies. 
"At this point, we're definitely in it to finish. We've got another 23 or so episodes until we finish the list. We've been ranking the movies as we go so we'll have a final tiered list at the end," Harrold said. "Beyond this, we'll likely continue the podcast with new mini-threads, examining a mixture of new and old films," he said. 
Harrold does the podcast for enjoyment. 
"This is definitely just something we do for fun, since we have very few listeners. So we try to make sure it's something that doesn't become a chore," Harrold said. 
Cinema Cemetery can be found on Spotify through this link:  https://open.spotify.com/show/4HizgGDrwMjJeoYlavl5cY?si=EPa6A2r8Rcu8Mnoywu6f2A
Saras starts podcast to share his sports opinions
Assistant Principal John Saras has always loved talking about sports, and that has led to his relatively new podcast, Sports with a Side of Saras.
"The inspiration came from my passion for sports at all levels," Saras said of the podcast, which he has been making for about four months.  "I love talking about it, but most importantly, I love the preparation that goes with production of the podcast."
Saras said his interest in sports goes back to watching baseball games with his father. 
"We'd sit down and watch the entire game," he said. "I'm a big stats guy – I like numbers and math," the former math teacher said.
Saras said he is inspired by a variety of sportscasters and podcasts. These include local outlets such as DK Sports, The North Shore Drive, and recaps from the 93.7 The Fan Morning and PM Team shows, as well as national ones.
"I enjoy listening to Scott Ferrall, Dan Patrick and a collection of ESPN podcasts," he said. "I listen to different outlets to acquire as much insight as possible."
"
(Mike Sullivan) is the best Pittsburgh sports coach and he is the best coach in the NHL"
— John Saras
He does not limit his own podcast to any one sport or league.
"I talk about all sports, whatever is most relevant at the time," he said.
Pittsburgh's sports teams may face a variety of struggles at the moment, which makes them big topics for podcasts like his.
The Penguins have lost in the first round of the playoffs the past three seasons in a row. With this year's playoffs ready to begin, Saras sees another first-round defeat.
"It's a disappointing statement to have to make," he said. However, Saras still believes in Coach Mike Sullivan.
"He is the best Pittsburgh sports coach and he is the best coach in the NHL," he said.
For the Pittsburgh Steelers, the issue is which position they should look to strengthen in the first round of the draft.
"Wide receiver or inside linebacker," Saras said. "I really like the inside linebacker out of the University of Utah, Devin Lloyd," Saras said. 
The Steelers should give new quarterback Mitch Trubisky a chance, he said.
"We have to see what Trubisky can do. If there is trouble and he is failing to get wins, then make a move at a future QB," he said. 
And finally, the lowly Pirates could be three to five years from being legit postseason contenders – if they start to rebuild and focus on the team, he said. 
"We have to try something different. They signed (Ke'Bryan) Hayes and (Bryan) Reynolds for future years," he said. "I really like Diego Castillo and Michael Chavis, who has become a second team project." 
Saras runs his podcast with a visual background of Heinz Field while he records, which was set up by Baldwin senior Geno Bonidie. In the future, Saras looks to have guests on his show. 
"We just got video attached to the audio, so I am going to see what I can do," he said.
Saras has never considered making this his full-time job, though.
"It is more of just a hobby. If anything, I wanted to be a sports agent because it deals with business and numbers," he said. 
The podcast hasn't been difficult to manage from a scheduling standpoint, Saras said. Saras records his episodes in Studio B at the library on Fridays. 
"It's easy and fits right in," he said. 
Each episode lasts about 15 minutes. The Sports with a Side of Saras podcast can be found at https://www.buzzsprout.com/1857653