Boys tennis doubles fall short at sectionals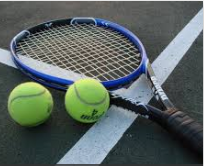 Two Baldwin boys doubles tennis teams competed at sectionals Tuesday, placing fifth and 13th out of 16 teams.
The first team, composed of Braden and Leyton Yokopenic, defeated Allderdice before losing to Fox Chapel.
"We started out (the first match) rough, but we picked it up very quickly," Braden Yokopenic said. "And we came back and won that match." 
Leyton Yokopenic said he had to adapt his game.
"It's just hard playing against two people instead of one, so I had to try and play differently than I normally do," Leyton said. 
Still, the brothers did well. "(We did well at) adapting to our competition," Leyton said.
In the following match, the Yokopenics faced a team from Fox Chapel.
"We went in there knowing that they were a very good team, and we had played them before and lost," Braden said. "We knew what we had to do differently, but we just couldn't execute it the way we wanted to." 
Still, the match was close. Though they won't be advancing to WPIALs, the Yokopenics know what to improve. 
"(We could work on) staying more consistent with our hitting," Leyton said.
The second team consisted of juniors Owen Garofalo and Danny Khalil. 
They lost 10-0 to Central Catholic, but they took more away from the experience than just the loss. 
"It was very hard for us," Garofalo said. "However, we did have some really good rallies, and Danny had some really good forehand shots as well." 
This is Garofalo's second WPIAL sectional appearance. He played in singles and doubles sectionals last season. 
"We were able to play. We just couldn't capitalize," Garofalo said.