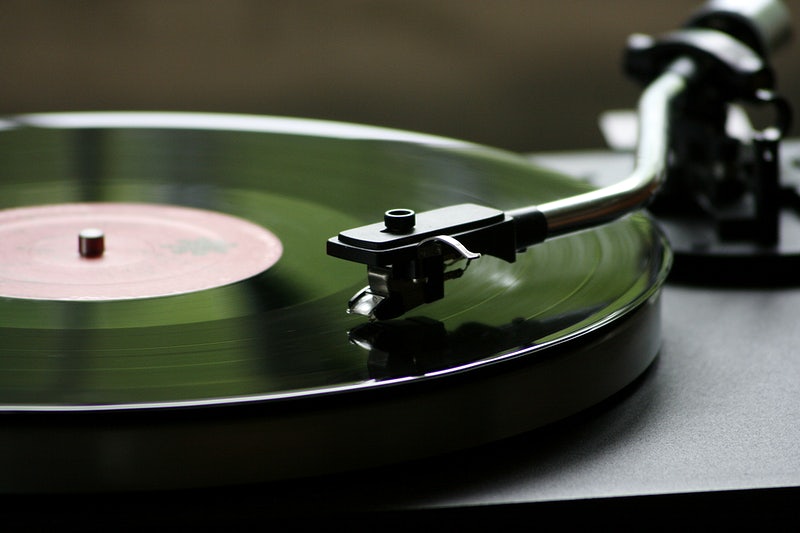 Photo via Creative Commons License
Record stores thrive in Pittsburgh
April 8, 2022
With the rise of music streaming services such as Spotify, physical music stores have seen a visible decline. Despite this, around the Pittsburgh area, there are a significant amount of stores left and a number of new stores opening up. Each store has its own individual style and each offers unique customer experiences. Here is a look at four of them.
Vinyl Remains seeks younger audiences
When customers first walk into Vinyl Remains, the smell of burning incense fills the store, and music memorabilia and shelves of records decorate the walls. The store, a former dress shop, still has the old gold ceiling and crown molding. 
"I like having the aesthetic that I have in here because it's almost like a museum," owner Greg Anderson said. "You can ask questions. I like it to be inspirational."
Vinyl Remains has mostly used classic rock, jazz, and blues albums, but carries an assortment of new records and other music genres. Anderson also carries cassettes, rare albums, turntables, and speakers. He also can find and fill custom orders for specific records. 
Anderson has a mission to put music in the hands of young customers. He offers a 15 percent discount for all students. 
"I like for them to totally have at it on those records," Anderson said,  "I want younger people just to have that stuff. I just like turning people on to music and to records."
During the pandemic, he took to Instagram and other online platforms to keep his business running, and operated by doing mail orders and filling online orders. Now, the store is back open for customers to come in and browse. 
"People have a crazy appetite for music and for records," Anderson said. 
Anderson likes the location because of the other businesses in the area. Customers can come in while waiting on a dinner reservation, or stop by because they were already in the area, Anderson said. The more restaurants and food options in the area, the more customers come into the shop. He also said that he gets customers of all ages. 
Before opening a store in Pittsburgh, Anderson owned a record store in New York, as well as a restaurant/bar. He chose Pittsburgh because of the lively nature and the culture of the city. The Mount Lebanon strip that Vinyl Remains is located on also doesn't have anything else like his store, Anderson said. 
While the store is relatively small, Vinyl Remains is packed full of amazing music. 
Government Center doubles as music venue
Music was a great way for Government Center record store owner Josh Cozby to find his own passion, profession, and personality.  
"I got into music because I wanted to find my identity and start navigating the adult world," Cozby said.  
The Government Center, located at 715 East St. on the North Side, sells new and used vinyl LPs, cassette tapes, CDs, and vinyl turntables. The genres the store carries include indie rock, alternative rock, hip-hop, underground hip-hop, jazz and experimental rock. 
The Government Center started out on East Ohio Street on the North Side, before moving a few blocks to its current location six months ago. Cozby had always envisioned the shop not just a record shop, but a music venue as well – and with the new location he can have in-store performances.  
The Government Center has bands perform at least once a week, along with other events, like comedy shows. Some upcoming shows at the Government Center are the KY Voss album release show on April 7 and the Traitrs/Take Me With You show on June 6. 
Crozby is currently working on setting up a cafe and bar next door to complement the stage. He already has renovated the store to fit his needs, including adding the recessed stage along a back wall. 
Cozby originally worked as a high school and middle school teacher for nine years in Oregon before shifting into the record business there. He eventually moved to Pittsburgh and opened the Government Center.
"I used to be a high school teacher and I was looking for something new to do," Cozby said.       
Jerry's Records still thrives in a digital age
Jerry's Records doesn't seem all that special from the outside, but for music lovers and collectors alike, this Squirrel Hill store is a gold mine. 
Named one of the best record stores in the United States by Rolling Stone magazine, Jerry's has earned the title. The store is filled with thousands of records in a wide variety of genres, and its massive collection of records is astounding to new customers. The store sells used vinyl only, rather than new releases.
Customers enter the store after walking up a long stairway, and then they head into a huge main room filled with bins and boxes of popular favorites or records that were hits briefly in the past. 
"I always respected that with Jerry's. If you want that common record that no one else bothers to carry, you can come here and find it," owner Christian Grauzer said.
Other rooms branch off into less popular genres like Christmas music, soundtracks, and vocalists. Despite the huge inventory and varying genres, rock, soul, and jazz typically attract the most customers. 
"Classical does not sell well, unfortunately," Grauzer said. "But at the same time, I think our store is unique in the sense that we have all that. You go to any smaller shop and they don't have room to house tens of thousands of classical records."
With its knowledgeable staff and huge inventory, Jerry's allows customers a chance to explore other genres, something Amazon cannot match, Grauzer said. 
"You don't get the experience of going in and talking to someone and learning about new stuff. You don't go to Amazon and hear music playing in the background. You can't ask an employee, 'What do you think of this record?' It's different," Grauzer said. 
Jerry Weber originally opened the store in 1985 in Oakland and then later moved to the current location in 1993. In 2017, Weber sold the store to Grauzer, a longtime employee. Weber passed away in January of this year. 
Grauzer originally worked at Allegro Hearth Bakery, located up the street from Jerry's. Grauzer soon became a regular as he visited Jerry's frequently after work, and then later he became an employee. He was planning to open his own business but couldn't pass on the opportunity to buy Jerry's.
"Jerry had talked about retiring many times in the past, but this time he was actually serious. I thought, well, I could open my own small store and probably struggle, or I could go with an institution."
The store for years has specialized in selling used vinyl, but Grauzer plans to incorporate CDs and cassette tapes with a new section of the store that is under construction.  
"I think (physical music) makes you engaged and pay more attention to the music. I also think they sound better, warmer, and different than digital stuff," Grauzer said. "It's more of an immersive experience than hitting a button on a phone." 
Madman's looks to create a welcoming environment
When customers first enter Madman's Music Emporium in Brentwood, they see tables holding boxes of records and are greeted by owner Mike Weinstein, usually joined by his dog, Layla.
"It's like inviting someone to your house for dinner. You make it nice and comfortable," Weinstein said of his store. "I like to treat the store like you're coming to my living room."
The walls of the store are lined with colorful posters and towering shelves with many CDs and cassettes, plus a small section with books and DVDs. The store also has various types of stereo equipment available. 
"I wanted something like the atmosphere of old record stores in the '60s and '70s," Weinstein 
said. "Most people who come to music stores love the environment."
The store holds many vinyl records, but Weinstein urges customers to consider exploring other forms of media, like CDs. 
"I try to get people into music, not just records," Weinstein said. "A good record store should have everything."
Weinstein, a Chicago native, initially planned to live in Pittsburgh for just six months. He decided to stay after opening three record stores in the area called Rediscovery in the '80s.  After selling the stores, he sold records at flea markets in his free time while traveling for his job in consulting. 
Weinstein later opened his first location for Madman's in Perryopolis, with the Brentwood location opening seven years ago. He originally planned to sell mostly CDs when he opened the first Madman's store.
"We had no records when we opened. I was going to open a gallery because we have a lot of posters and CDs," Weinstein said.  "As people brought stuff in, they brought records, so now I'd say our sales are 50 percent CDs and 50 percent albums."