Boys tennis falls to Trinity in season opener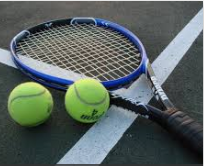 The boys tennis team lost its first match of the season on Tuesday, falling 3-2 against Trinity.
Trinity was a difficult opponent, doing better than the Highlanders had anticipated, junior Daniel Khalil said.
"I think that they were pretty consistent and played well," Khalil said.
Khalil said he is happy with his performance during his match.
"I hit a lot of slices and I feel like I had good power," Khalil said.
Junior Braden Yokopenic said he played consistently, as he won his match. 
His brother, freshman Leyton Yokopenic, also played notably, beating his opponent 8-2.
"I think my brother did very well for his first match. You could tell he was nervous but he did great," Braden Yokopenic said.
Two other players who stood out were juniors Nate Phillips and Max Boyan, who were not expected to play at the game but performed well. 
Khalil and Yokopenic said the team has room for improvement. While they are not very experienced, they hope to see better results as the season continues.